December 1, 2011 – Allen Moll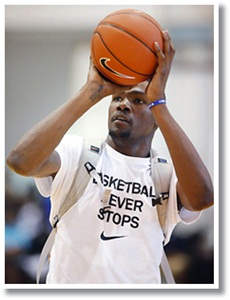 While a majority of NBA players decided to spend some extra time with their families, hone their skills overseas, or participate in the myriad of charity games during the labor strike, highlight reel superstars John Wall and Kevin Durant were undoubtedly the unofficial Lockout All Stars.
Both players showed up seemingly anywhere and everywhere from LA to NYC to show off their much improved offensive skills against all takers in search of competition this offseason. Now, with the Lockout officially over and the final details of the agreement being worked out as we speak, Wall and Durant are as primed as anyone to have outstanding 2012 seasons.
Wall and a much improved Washington Wizards supporting cast will undoubtedly be looking to improve on a disappointing '10-'11 season that saw the Wizards win all of 23 games despite possessing some of the best young talent in the Association with multi-talented PF Andray Blatche, high scoring SG Nick Young, and elite level, uber athletic shot-blocker JaVale McGee.
Durant and his OKC Thunder teammates will arguably be considered one of the favorites to win the Western Conference after winning 55 games and advancing to the Western Finals. Playing alongside fellow All Star Russell Westbrook, "The Durantula" won his 2nd straight NBA scoring crown, and if his off-season resume means anything, seems primed to win yet another this season.
With the NBA season set to officially begin on Christmas, let's take a look at Wall and Durant in action this off-season. You be the judge, who is the official Lockout MVP?
John Wall Official Lockout Mixtape:
Kevin Durant Goodman League Mixtape:
Allen Moll has been a lifelong NBA and NCAA College Basketball fan who watches and studies games religiously, and coaches youth basketball in his native Lehigh Valley region of Pennsylvania.  Allen has also provided content to Bleacherreport.com, Upperdeckblog.com, Cleveland.com, CSN Philly.com, Buckets Magazine, in addition to being a tenured NBA and NCAA columnist for TheHoopDoctors.com.