September 23, 2011 – Allen Moll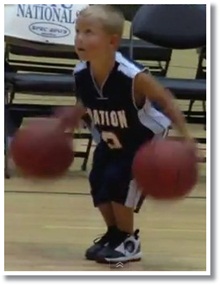 In the modern age of basketball and with the advent of the internet, we are learning that today's younger generation of basketball players have been getting a jump on honing their hoops skills at amazingly young age.
We've already amazed you with the exploits of 6th grade phenom Jaylin Fleming, who once schooled Reggie Miller on national TV. Amazing Arkansas 8th grader Adrian Moore reportedly has already been scouted by Baylor University after dunking a basketball as early as the 6th grade.
But even more unbelievable is the fact that hoop stars have begun emerging from the elementary school ranks like the multi-talented Ohio native Seth Wilson, who already has been named the top 2nd grade ballerin the country and has won numerous awards like MVP honors at the Ohio Future Stars Tournament.  Seth was playing against kids his own grade level this time around, instead of the usual opponents 2-3 grades higher, and wound up nearly averaging a triple double (19 ppg, 11 reb, 6 ast).
But little Reese Woodbury, hailing from the state of Maine, has already done something all of the aforementioned 'baby ballers' have yet to accomplish….winning an AAU U19 Championship. Woodbury has just started kindergarten but is already quite the accomplished basketball player, especially considering he's all of 5 years old.
Although his father is the coach of the national champion MB Nation AAU squad, little Reese hardly got special treatment as a member of the team. In fact, he regularly helped run drills in practice and actually logged some official playing time in games, albeit usually during blowout wins, helping to earn some valuable experience going forward.
Word is that the baby baller is the star of the 3rd and 4th grade MB Nation squad and undoubtedly has a bright future. Surprisingly, this isn't the first title that Reese has won since he has already captured a championship with his 3rd-4th grade squad.
Check out Reese's story:
Allen Moll has been a lifelong NBA and NCAA College Basketball fan who watches and studies games religiously, and coaches youth basketball in his native Lehigh Valley region of Pennsylvania.  Allen also provides content to Bleacherreport.com, Upperdeckblog.com, in addition to being a tenured NBA and NCAA columnist for TheHoopDoctors.com.