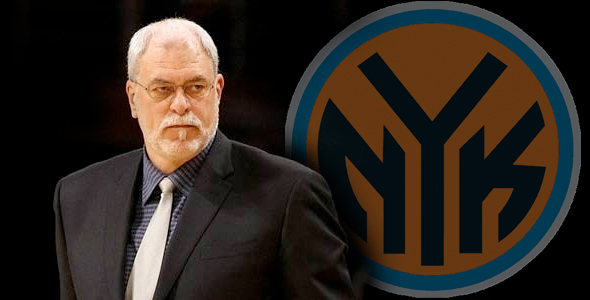 August 23, 2011 – Allen Moll

esides Dennis Rodman's emotional Hall of Fame speech and his choice of wardrobe for the event, the biggest rumor floating around the Springfield, Massachusetts induction ceremony was whether or not newly retired HOF coach Phil Jackson would return someday to coach the New York Knicks.
Jackson was on hand at the most recent induction ceremony to help usher in former assistant coach Tex Winter, and former player with the Bulls, Dennis Rodman. Jackson looked a tad more refreshed after a few months off from basketball and with longtime girlfriend and Lakers executive Jeanie Buss on his arm.
After 20+ seasons of nearly year-round head coaching duties, the now 66 year old Jackson followed through on a promise made before last season to retire at season's end, no matter how far his most current Lakers squad advanced in the 2011 NBA Playoffs. The Phil and Kobe led Lakers lost in 4 straight to eventual NBA Champion Dallas Mavericks in the 2nd round of this year's post-season. Former Cavaliers coach Mike Brown has since been hired as Jackson's replacement in LA.
Phil reportedly retired over health concerns and because quite simply, he has nothing else to prove. He holds records for both, most titles won (11) and the best individual season record (72-10) as a coach in history.
When asked directly at the induction about a possible return to coaching, Phil didn't entirely rule it out, but instead left open the possibility by taking the wait and see how I feel approach:
"You can't tell. "I'll know in October, November, December, January or February – whenever they start the season – what it's like to be without ball again."
Here's former player Scottie Pippen's comments on Phil's return:
"I think Phil is ready to go off into the sunset, probably for good," "I think the physical side of it is really starting to take its toll. At this stage of his life, it would take a job like New York to bring him back. That's the kind of challenge that he would need. But I think he coached his last game."
And leave it to Charles Barkley to have the most entertaining response when asked if Phil would consider coaching in NY:
"I don't think Phil will coach again, whether it's New York or anyplace else," said another Hall of Famer, Charles Barkley. "I think the big issue is age. It's a young person's game. Phil's not 50. He's accomplished everything and I don't think he wants to return to the grind. It's just time. At this stage of his life, I don't think he wants to get stressed out.""The other thing about the Knicks is, they're not a contender," Barkley added. "I don't think he'd have the patience to hang around to wait for them to become a contender. The Knicks are a ways away. So even if he came there for one year, it'd be great for box office and great for attention. But they wouldn't be a contender."
All three have valid points. Barkley, as usual, goes right to the point. Phil Jackson isn't in the business of helping to rebuild a team but rather winning with an already accomplished roster, capable of getting over the hump towards winning a title. Rebuilding, that's Larry Brown territory. Oh, wait, that already happened with horrific results that rival Isaiah Thomas as an executive. No thanks. Besides, I don't think Melo would be able to "Play the right way."
While Stoudemire and Anthony qualify as having definite star power on the roster, consider this. Why would Phil leave an already in place superstar in Kobe Bryant, along with a talented roster that just won back-to-back titles and leave his daughter of Lakers owner girlfriend to coach in "The City that Never Sleeps?" I guess anything is possible.
Prior to this week, we'd never heard of someone named 'Metta World Peace', let alone seeing a pic of him planking a toilet.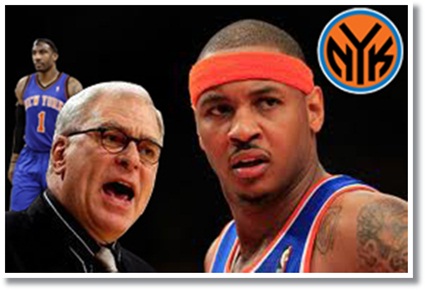 Source: NY Daily News
Allen Moll has been a lifelong NBA and NCAA College Basketball fan who watches and studies games religiously, and coaches youth basketball in his native Lehigh Valley region of Pennsylvania.  Allen also provides content to Bleacherreport.com, Upperdeckblog.com, in addition to being a tenured NBA and NCAA columnist for TheHoopDoctors.com.