August 11, 2011 – The Hoop Doctors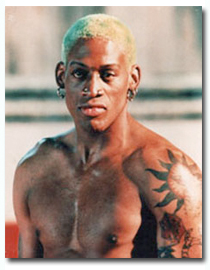 Would you expect anything else? Seriously? He might as well go into the Hall the same way he played: with flair.
Aventura's Dennis Rodman told us Tuesday he will arrive at his Basketball Hall of Fame induction Friday by helicopter. He wanted to enter the Hall on a colorful float, "but they wouldn't let me block off the street" in Springfield, Mass.
He said he will hire acrobats to perform and "a couple of my outfits will be 'out there.' Whatever might be too zany is not too zany." His marketing agent, Floyd Ragland, said Rodman is spending $60,000 to fly in Penny Marshall, Howard Stern and other friends. Phil Jackson is Rodman's presenter.
Read more about The Worm's anticipated arrival on Friday at MiamiHerald.com.