July 11, 2011 – Kevin Burke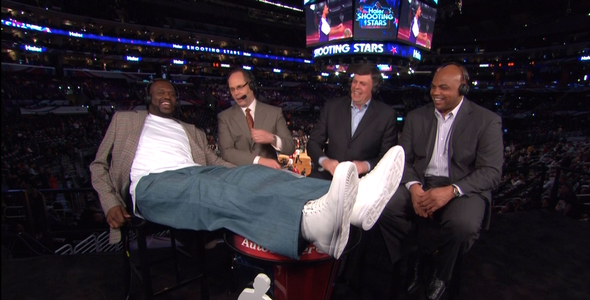 Shaquille O'Neal is undoubtedly one of the most charismatic, likeable figures in sports history. And it helps that he's an all-time great. So we knew that it wouldn't be tough for him to find work on television once he decided to hang it up after 19 NBA seasons. For a few years now, Shaq and TNT's Kenny Smith have been engaged in somewhat of a playful back-and-forth where Shaq routinely warns Kenny that he's coming for his job when he retires. While that may not be entirely true, Shaq and Kenny will now be colleagues as O'Neal has joined the TNT broadcast crew.
Ernie Johnson, Kenny Smith and Charles Barkley are best broadcast crew on TV in any sport. Period. It's not even close. They have the uncanny ability to keep viewers entertained without even talking about basketball. I'd put ESPN's "NFL Countdown" crew of Chris Berman, Mike Ditka, Keyshawn Johnson, Cris Carter and Tom Jackson second, but they pale in comparison to the TNT guys. Because of the greatness of this crew, I'm always somewhat annoyed when producers decide to put another guy in the mix, who sits on Ernie's right. We've seen Reggie Miller, Chris Webber, Magic Johnson and Kevin McHale to name a few. Those guys are knowledgeable, but for the life of me, I never understood what would compel anyone to insert another guy. It's just not necessary and disrupts chemistry. Who looks at Johnson, Smith and Barkley and says "You know what, I think they need another guy up there. This just isn't entertaining."?
It remains to be seen how Shaq will be used. With McHale now out of the picture as the new head coach of the Houston Rockets, I'd like to think Webber will be a mainstay on the left of the screen on "Inside the NBA", rather than platooning with McHale. But will he and Shaq now split time up there? Personally, I don't think that's where Shaq will be at his strongest. His natural speaking voice is low and very monotone. How will that translate amongst three guys who can finish each other's sentences? I almost think he'd be better doing scripted comedic segments, similar to what Kenny Mayne does on ESPN's "NFL Countdown" on "Mayne Event". But as long as he's with TNT, that means he won't replace Mark Jackson on ESPN/ABC, because I think that really would've been a mistake.
If you're looking for your everyday, predictable basketball talk, then you've come to the wrong place, because Kevin Burke of The Kevin Burke Project brings provocative, thought provoking content about basketball as only he can. Kevin also hosts The Hoop Doctors weekly podcast show, which you can subscribe to for free on iTunes. Follow Kevin on Twitter and Facebook