July 14, 2011 – Allen Moll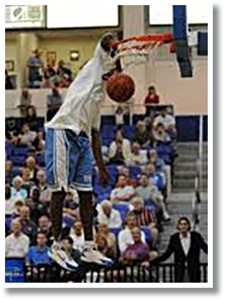 When thinking in terms of the World's greatest dunkers, international streetball legend Kadour Ziani has to rank at or near the top. But as the legendary dunk artist creeps into his 40's, athletes on the And 1 and Ball Up Mixtape tours as well as the Team Flight Brothers crew are rising to the top of the dunk game.
One of Team Flight Brothers' top dunkers is Kareem Ward, but is perhaps better known by his moniker "Air Bama". Bama is a native of, you guessed it Alabama, and has even been regarded as the college ranks best dunker during his time at the University of Western Alabama during the mid 2000's.
Since then, Ward has made news by winning $25,000 and a got chance to play on the 2008 And 1 Mixtape Tour and currently is one of TFB's star dunk artists, regularly jumping over defenders and being one of the select few to ever pull off a windmill elbow dunk.
Now, what do you get when you combine Air Bama with the Athletic Propulsion Labs Concept 1 Shoes that were banned by the NBA for increasing a players's vertical leap? True dunking history.
As seen in the video, Air Bama head now easily reaches the rim on dunk attempts and even jumps clear over one poor hapless defender on a thunderous jam. But what he does at the end of the video is what is pure amazing………as he decides to throw one down on a 12 foot rim, still suspended from the gym's ceiling.  Although the dunk wasn't officially measured, it's believed to be approximately 12 feet high. Impressive.
Check out Air Bama Dunking on a 12 Foot Rim:
Allen Moll has been a lifelong NBA and NCAA College Basketball fan who watches and studies games religiously, and coaches youth basketball in his native Lehigh Valley region of Pennsylvania.  Allen also provides content to Bleacherreport.com, Upperdeckblog.com, in addition to being a tenured NBA and NCAA columnist for TheHoopDoctors.com.