June 21, 2011 – Joshua Sexton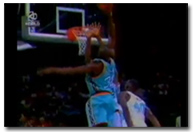 After the NBA Draft finishes up later this week, basketball fans will have very little round ball to follow this summer, aside from the labor negotiations.
So, I have decided to countdown the 25 best dunks in NBA history. Each week, on Tuesdays and Thursdays, I will be revealing one dunk, leading up to the best dunk of all-time throughout the course of the summer. Although I have done my research and tried to remain as objective as possible in making my selections, at the end of the day, this list is one man's opinion. Therefore, I want all of the feedback I can get, whether you are agreeing or disagreeing with any of the dunks and/or their respective rankings.
Without any further ado, let's take a look at the Hoop Doctors' selection for the 25th best dunk in NBA history.
25. Shaq Posterizes David Robinson at the 1996 All-Star Game
Wouldn't it have been sweet if Shaq had saluted the Admiral after the nasty facial? Needless to say, I don't believe the Navy used this poster as recruiting material.
Michael Jordan's reaction is pretty memorable as well.
Check us out Thursday for the 24th best dunk in NBA history.
Joshua Sexton is a lifelong basketball fanatic, who watches as many games as possible. In addition, He has played and coached the game at the high school level. He has recently started writing about the game of basketball.