June 21, 2011 – Allen Moll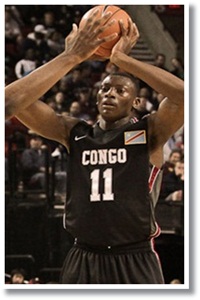 It's certainly nothing new for potential NBA draftees to act immature or make unreal claims about themselves or other future pros considering most are still in their teens and barely one year removed from high school.
Earlier this season, Kansas' brash forward and potential Lottery selection in his own right, Marcus Morris bristled at the thought of being compared to Denver's Al Harrington, instead claiming to be more like 4 time All Star Carmelo Anthony. His twin brother Markieff, also wondered aloud why he and his brother are only considered mid-1st Round selections and that possible top pick Derrick Williams "isn't as good as advertised." I guess that the Morris twins conveniently forgot that Williams dropped 27 points and 8 boards on the Jayhawks during the regular season, albeit in an Arizona loss.
Next up is International player Bismack Biyombo, who had a breakout performance at this year's Nike Hoop Summit, and is widely considered one of the sleepers to go high in this year's Draft. Playing against the top HS prospects from the United States, Biyombo instantly appeared on every GM and scout's radar after posting the first triple-double in the event's history.
The native of the Congo reportedly has not even reached 20 years of age and already has a grown man's physique(6'9 and 240lbs) and exudes athleticism that would make him an immediate impact player at least on the defensive side of the ball. He's one of the many mystery top notch International prospects along with Jan Vesely, Donatas Motiejunas, and Jonas Valanciunas, that despite not much exposure are all expected to be selected in the 1st Round.
Biyombo plays the game on a pogo stick, has a motor that doesn't quit, and despite not much of an offensive game, or much experience at the highest level of the Spanish Leagues, is projected to go mid 1st Round in the mold of a Ben Wallace type player. Biyombo has obviously taken those lofty comparisons to heart as he has been bragging in recent interviews to do something Wallace has done numerous times….lead the NBA in both blocked shots and rebounding.
Here's a direct quote from Biyombo in an interview with CBS:
So, do you believe you will lead the NBA in blocks?

"I do."

Will you lead the NBA in blocks?

"Yes."

Can you lead the NBA in rebounding?

"Yes, I will."

You will lead the NBA in rebounding?

"Yes. Of course. Hundred percent.

"I don't care how tough people are over there. I don't care how strong they play over there. I know that I'm strong, too. I know that I'm tough, too. I never let people just beat me easy. They're going after me and I'm going to go after them."
I get it. He's trying to improve his draft stock by implying he's just as good as any of the Top 5 players in this year's draft. But unless Dwight Howard, Javale McGee, and Andrew Bogut retire before next season, he may have a hard time reaching those goals as a rookie.
Check out a 2011 NBA Draft Mix of Bismack Biyombo:
Allen Moll has been a lifelong NBA and NCAA College Basketball fan who watches and studies games religiously, and coaches youth basketball in his native Lehigh Valley region of Pennsylvania. Allen also provides content to Bleacherreport.com, Upperdeckblog.com, in addition to being a tenured NBA and NCAA columnist for TheHoopDoctors.com.