June 8, 2011 – Allen Moll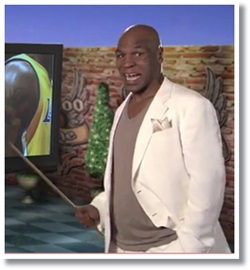 It's been a short minute since former heavyweight boxing champ "Iron" Mike Tyson has been in the news for something either good, bad, or indifferent unless you consider his cameo role in The Hangover.
That's probably a good thing, despite being known as one of the greatest knock-out artists in heavyweight history, surely we all remember the wild pre-fight press conferences and of course…biting the ear off of Evander Holyfield.
But amazingly, the day he decided to put a full size tribal tattoo on the side of his face may have taken the cake, although it's so hard to pick just one singular moment.
Tyson has resurfaced lately on the Jimmy Kimmel Show, of all places doing his own 5 minute segment on…..you guessed it, tattoos. Jimmy is a genius when it comes to late night entertainment and who wouldn't want to watch "Iron Mike" in his very own segment, aptly titled "Tattoo Time"?
In this piece he sings, dances, and gives his opinions on some NBA players' tattoos like Kobe Bryant, Kenyon Martin, and DeShawn Stevenson.  I'll bet he loves DeShawn's Abe Lincoln tattoo.
Check out Mike Tyson talking NBA tattoos in Tattoo Time
Allen Moll has been a lifelong NBA and NCAA College Basketball fan who watches and studies games religiously, and coaches youth basketball in his native Lehigh Valley region of Pennsylvania.  Allen also provides content to Bleacherreport.com, Upperdeckblog.com, in addition to being a tenured NBA and NCAA columnist for TheHoopDoctors.com.