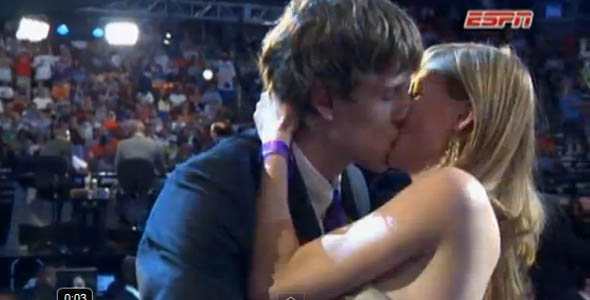 June 27, 2011 – Joshua Sexton
Basketball fans were introduced to Jan Vesely Thursday night, after the Washington Wizards selected him with the sixth overall draft pick. They were also introduced to his beautiful girlfriend.
Eva Kodouskova was unexpectedly seen by millions of basketball fans across the world on Thursday night. After Vesely's name was announced by David Stern, he shared a nice smooch with Eva, before making his way to the stage. The kiss ended up generating as much buzz as any of the basketball business that went down that night.
Considering the Wizards were ranked 28th in the league in scoring last season, and the team is in need of a front court player who can put the ball in the hoop, Vesely will be thrown into the action right away in D.C.
The team and fans can only hope those smooches from Eva will bring good luck. Check out the video of the famous kiss after the jump.
Joshua Sexton is a lifelong basketball fanatic, who watches as many games as possible. In addition, He has played and coached the game at the high school level. He has recently started writing about the game of basketball.