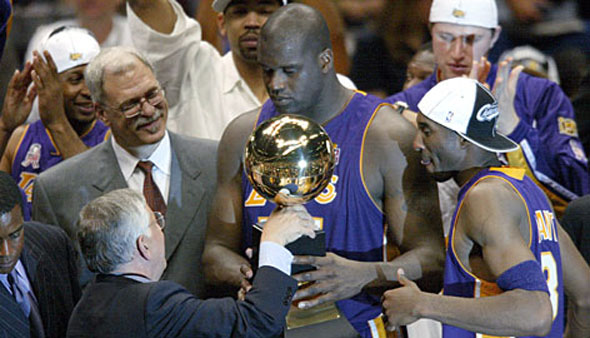 June 1, 2011 – The Hoop Doctors
After 19 amazing seasons in the NBA where he was the most dominant force physically the game has ever seen, Shaquille O'Neal, announced on Twitter today (video and tweet after the jump) that he is going to retire. During his career Shaq Diesel won four NBA titles, three NBA Finals MVP's, fifteen All-star selections, two scoring titles, and the 2000 league Most Valuable Player award.
O'Neal sent a tweet shortly before 2:45 p.m. saying, "im retiring." It included a link to a 16-second video in which he says, "We did it; 19 years, baby. Thank you very much. That's why I'm telling you first: I'm about to retire. Love you. Talk to you soon."
An inveterate prankster who gave himself a new nickname – or several – in each of his six NBA cities, the 15-time All-Star did not notify his latest team of his plans. He played just 37 games this year, the first of a two-year deal at the veteran's minimum salary, making just three brief appearances after Feb. 1.
"To my knowledge, he has not informed any of us that he's retiring," Celtics spokesman Jeff Twiss said.
If he goes, O'Neal retires fifth all-time with 28,596 points, 12th with 13,099 rebounds and second only to Artis Gilmore among players with more than 2,000 baskets with a .582 field goal percentage.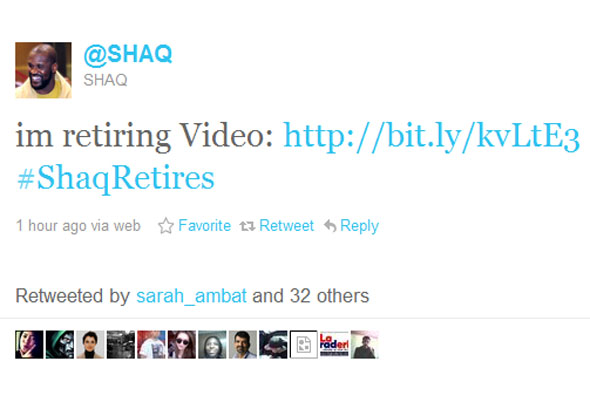 Track the news and reports on Shaq's retirement via NBA.com.