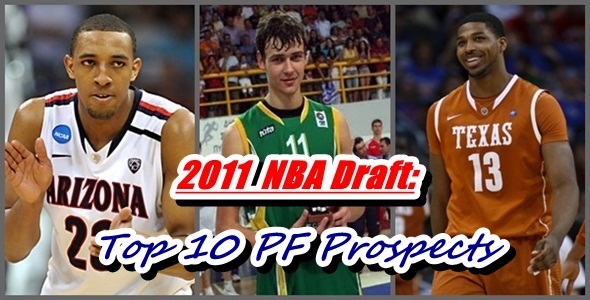 June 3, 2011 – Allen Moll
With a number of top tier players like Jared Sullinger, Perry Jones, and Harrison Barnes pledging to return to school for their sophomore seasons, the 2011 NBA Draft has decidedly gotten weaker. This year's field may be one of the least potent in recent memory, going back to the rather forgettable 2000 Draft which featured Kenyon Martin, Stromile Swift, and Darius Miles as the Top 3 selections.
While the latter parts of the 1st Round and into the 2nd Round may not feature a plethora of game-changing players, it doesn't mean that there aren't some potential All Star caliber ballers at the top. Starting with the Point Guard position, this is the second of a five part series evaluating the Top 10 players at each position. First up was PG, followed by the Top SG's, then the SF's, and now the Top 10 Power Forwards:
1) Derrick Williams, Arizona
19.5ppg, 8.3 reb, 1.1 ast, 1 blk, .595 FG%, .746 FT%, .568 3PT%
Projection: Top 3 Picks
The 2 time PAC-10 POY has been every bit as good as advertised this season, and then some. Williams stock has sky-rocketed as he has become a game-changing big man who projects well at the next level. After surprising fans with his outstanding play as an unheralded freshman last season, he has taken his game to another level, helping to make the Wildcats relevant once again out West. He uses his big body and at times overpowering strength to get into the paint to do most of his damage, leading all NCAA players at getting to the foul line. Has added range from last season extending to the 3 point arc, in addition to shooting more than 62% from the field. Few players have as much confidence and attack the rim with such ferociousness as Williams and some scouts him as the #1 player available considering Kyrie Irving's lack of collegiate experience, injury concerns, and showing up at the Combine out of shape.
Comparison: Carlos Boozer
2) Donatas Motiejunas, Lithuania
13.3ppg, 3.3 reb, 1 ast, .559 FG%, .440 3PT%, .721 FT%(Italian Leagues)
Projection – Top 15 Pick
While some rate Vesely or Valanciunas as the best pure International prospect, in my opinion Motiejunas has the most potential to be a star in the NBA. At only 20 years of age, he has blossomed into one of the best scoring big men in all of Europe as he is currently averaging 13 ppg, shooting nearly 60% from the field, including more than 44% from behind the arc at the highest level in the Italian leagues. Since withdrawing his name from last year's Draft, Donatas has added 10 lbs of muscle and has showed a bit more toughness making international scouts compare him to current NBA superstars Pau Gasol and Andrea Bargnani. Defense and rebounding remain as areas of improvement but has the potential to be a real sleeper of the Draft.
Comparison: Andrea Bargnani
3) Tristan Thompson, Texas
13.1ppg, 7.8 reb, 1.2 ast, 2.4 blk, .546 FG%, .487 FT%
Projection – Top 15 Pick
Perhaps the very best of the Longhorn's fabulous freshmen, the Canadian born Thompson has come on strong down the stretch and now ranks as an elite level talent among NCAA big men. His stock has sky-rocketed behind a string of double-double performances that saw him average 18 points and 12 rebounds over the last month of the season in leading Texas all the way to the Big 12 Finals. Tristan has a rare skill set for a PF where he is an absolute beast in the painted area with an unstoppable motor, yet has decent handles and is more than capable of taking his man of the dribble when needed. While he is still a raw talent, there's no doubt that he may be drafted on pure potential as he could one day be a real gem of the class.
Comparison: Joakim Noah
4) Jan Vesely, Czech Republic
10.3ppg, 2.5 reb, 1.3 ast, 1.1 stl, 0.8 blk, .715 FG%, . 282 3PT%, .542 FT%
Projection – Top 15 Pick
Not many players tend to pass up a chance to earn millions in the NBA to remain another season in Europe, but the move appears to be paying off for Vesely as he showed great improvement this season in the Euroleague. Jan has shown a more ferocious demeanor around the rim this year as he attempts to dunk on seemingly every possession playing for Partizan. Although possessing a more slender frame, many scouts have compared Vesely to the European version of Blake Griffin, as he continually posterizes dozens of opposing players. He has terrific size(6'11) and length to play the SF position in the NBA although concerns remain defensively as to whether he can guard smaller quicker players. Like many European players, contract issues remain, as he would have to be bought out if he is to play next season in the NBA.
Comparison: Blake Griffin(Jr)
5) Kenneth Faried, Morehead State
17.3ppg, 14.3 reb, 1.1 ast, 1.9 stl, 2.3 blk, .623 FG%, .577 FT%
Projection – Mid 1st Round
Perhaps no one player's stock is on the rise as that of Faried. In his 4 seasons at a small Kentucky school, all the dominating big man has done is break Tim Duncan's long-standing rebounding record, while leading his squad to the 2nd Round of March Madness. He has one of the best motors on the planet and exudes athleticism that enables him to be an elite level rebounder and defensive stalwart. Offensively is where Faried's game struggles as he relies mostly on lay-ups on offensive rebounds and short jump hooks, in addition to some nasty put-back jams over defenders. Many have compared him to the modern day Dennis Rodman, and the comparison isn't far off, minus all the tattoos and multi-colored hair. He is a physical specimen with an unstoppable motor that dominated other bigs at the Combine.
Comparison: Ben Wallace
6) Markieff Morris, Kansas
13.6ppg, 8.3 reb, 1.4 ast, 1.1 blk, .589 FG%, .424 3PT%, .673 FT%
Projection – Mid to Late 1st Round
As one of the safest picks in this year's Draft, the other Morris twin at Kansas is more of a conventional 4 or 5 at the next level. He has excellent size, strength, and touch to be a solid contributor for a contending team. He has an unstoppable motor, above average rebounding skills, and blocks about 1 shot per night. One way he is similar to his brother Marcus is that he possesses long range shooting skills as he connected on 44% from downtown. Despite having outstanding low block skills and great touch from behind the arc, Markieff lacks a mid-range game and is limited by only average athleticism. Late 1st to early 2nd Round seems appropriate since he doesn't have as high of a ceiling as other PF prospects.
Comparison: Drew Gooden
7) JuJuan Johnson, Purdue
20.5ppg, 8.6 reb, 2.3 blk, .494 FG%, .294 3PT%, .809 FT%
Projection – Late 1st Round to Early 2nd Round
The reigning Big 10 POY(over Sullinger) has helped Purdue fans forget about the injured Robbie Hummel this season. Johnson has been a beast in the front-court area leading the conference in scoring(20.5) while pulling down 8+ boards, and blocking 2.3 shots per contest. He is deserving of 1st Team All American honors, ranking among the nation's leaders in double-doubles. While in the past his range only extended to around 15 feet, he has expanded to just outside the arc, making 30% on threes. While concerns remain about his still thin frame, he dominated opposing bigs at the collegiate level, showing an improved strength and sometimes nasty demeanor on the block. An improved offensive game and upping his FT% to more than 80% makes him a much better than an at first percieved shot-blocker at the next level.
Comparison: Marcus Camby
8) Justin Harper, Richmond
17.9ppg, 6.9 reb, 1.2 ast, 1.2 blk, .534 FG%, .448 3PT%, 797 FT%
Projection – Late 1st Round to Early 2nd Round
Harper has prototypical size for the power forward position but prefers to play on the perimeter. His bread and butter is a silky smooth jumper that extends to the 3 point arc and is very efficient in getting his man in the air/off balance, then driving to the rack with authority. He handles the ball well for a 4 yet possesses an above average spin move when forced to play in the paint. Concerns about a lack of competition playing in the A-10 and a need to add bulk against bigs at the next level will keep him in the lower part of Round 1. Could be a real sleeper.
Comparison: Lamar Odom
9) Trey Thompkins, Georgia
16.4ppg, 7.6 reb, 1.4 ast, 1.1 stl, 1.7 blk, .481 FG%, .311 3PT%, .689 FT%
Projection – Late 1st Round to Early 2nd Round
Despite being below the radar of the average NCAA fan, Trey is undoubtedly an elite NBA prospect. Possessing a prototypical NBA power forward physique, he is best suited in the half court as a low post player, even though he knocked down more than 30% of his 3 point attempts. Despite average athleticism, Thompkins over-matches opponents with a through the roof basketball IQ, tremendous footwork in the paint, and a focus on dominating the fundamentals of the game. Trey is one of the game's best offensive rebounders and scores on feathery tip ins, put-backs, and baby hooks, in addition to a being a rarity in today's game – a big man who shoots nearly 80% on free throws for his career. Thompkins stock is dropping after not faring well at the Combine.
Comparison: Poor man's Elton Brand
10) Mathew Bryan-Amaning, Washington
15.3ppg, 8.0 reb, 1.1 stl, 1.5 blk, .546 FG%, .619 FT%
Projection – Mid to Late 2nd Round
The former Huskies big man is a high motor big with a back-to-the basket offensive game and a motor that doesn't quit. He is extremely quick for a player his size and is capable of beating many players laterally in the low and mid post, while his length and creativity allow him to finish from multiple angles around the rim. While he had a great showing at the Portsmouth Invitational(for NCAA seniors), he needs to improve his range on his jumper as he currently hits from only about 15 feet. Although he has an incredibly long wingspan(7'4) and a ton of athletic tools, Bryan definitely has room to improve defensively. At this point, he has prototypical NBA PF size but is seen as a project, but has all the physical tools to be a good NBA player in time.
Comparison: Tyrus Thomas
Other Notables:
Rick Jackson, Syracuse, 6'9, 240lbs, Senior – Although he lost upwards of 25lbs prior to his senior season with the Cuse and led the Big East in rebounding, Jackson is limited offensively. He has range only to 10-12 feet and only average mobility. He may get some looks late in the 2nd Round as a defensive stopper.
Vernon Macklin, Florida, 6'10, 245lbs, Senior – Came into his own after transferring from Georgetown. Streaky offensive minded big with prototypical size. Sometimes disappeared in games. Physical, athletic big that has impressed at Portsmouth Invitational.
Lavoy Allen, Temple, 6'9, 230lbs, Senior – Lavoy was a walking double-double machine in his 4 years with the Owls. He has all the skills to be a productive big man but hasn't quite put it all together. One of the best passing big men in college and was a proven winner.
Jamie Skeen, VCU, 6'9, 240lbs, Senior – After riding impressive run to Final Four, Jamie has impressed at the combine, ranking as one of the best shooting bigs in his group. Prototypical size for PF, but plays too much on the perimeter.
Terrence Jennings, Louisville, 6'9, 220lbs, Junior – fter surprising everyone(including Rick Pitino) by entering his name in this year's Draft, Jennings has a game that mirrors a poor man's Amare Stoudemire but a little less physical. Shot blocking big with potential.
Malcolm Thomas, SD State, 6'9, 220lbs, Senior – Sleeper pick of the Draft. Through the roof athleticism with outstanding wingspan. He has a still developing offensive game consisting of short jumpers and put-backs on offensive rebounds. GM's love his high motor and unique work ethic.
Jon Leuer, Wisconsin, 6'10, 230lbs, Senior – Sweet shooting big man with 3 point range. Prefers to play perimeter in spite of impressive size for PF position. Improving passer but limited athletically and is only average defender. 2nd Round Selection.
Allen Moll has been a lifelong NBA and NCAA College Basketball fan who watches and studies games religiously, and coaches youth basketball in his native Lehigh Valley region of Pennsylvania.  Allen also provides content to Bleacherreport.com, Upperdeckblog.com, in addition to being a tenured NBA and NCAA columnist for TheHoopDoctors.com.