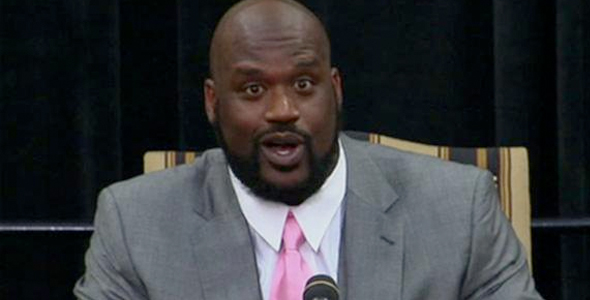 June 6, 2011 – Joshua Sexton
Much like Shaq's 19 year NBA career, his retirement press conference on Friday afternoon was both a combination of seriousness and comedic hijinks.
Right after he sat down in front of the microphone, Shaq accepted a fake phone call to accept the newly vacated General Manager position for the New York Knicks. Plain and simple, it was classic Shaq.
Things then got more serious, as Shaq read from a series of index cards all of the people he wanted to thank and recognize. He showered his family with wonderful praise for shaping him into a wonderful man and basketball player. Also, he thanked fans, media, the NBA and the six organizations he played for, among others.
As far as coaches are concerned, Shaq saved all his praise for Phil Jackson and Doc Rivers. The praise for Jackson was expected, considering he was the coach who taught him how to win.
The distinguished praise for Rivers was a little more surprising, however. Given his short, injury heavy, stint with Boston, the fact that Doc left such an impression on a future hall of famer speaks volumes of his coaching ability.
Additionally, Shaq retired all of his old nicknames (The Big Shaqtus, Shaqrock, Superman, etc), before giving himself one more; The Big AARP.
There was also mention of him doing television work in his life after basketball. I am sure it's a question of when and not if a major network comes pining for his services. The ESPN/ABC coverage could really use some livening up, seeing as they are nowhere near the level of the TNT crew.
By the sounds of it, Shaq is done with playing basketball, and he will not be following in Brett Favre's footsteps and holding a retirement press conference annually. Which is good thing for him, the fans and the NBA.
Shaq was a one of a kind talent and personality. He will be leaving a gap in the game of basketball almost as big as his size 20 sneakers.
Check out highlights of the press conference after the jump.
Joshua Sexton is a lifelong basketball fanatic, who watches as many games as possible. In addition, He has played and coached the game at the high school level. He has recently started writing about the game of basketball.