May 24, 2011 – The Hoop Doctors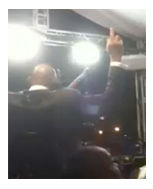 On Sunday night, during Game 3 of the Eastern Conference Finals, Charles Barkley got almost as much attention as the game itself. Because Heat fans were getting on his case as the TNT crew conducted their coverage outside, the network has announced that they will move the crew inside for Game 4 to prevent the same situation.
In the wake of a wild scene Sunday night outside of AmericanAirlines Arena, Charles Barkley has been granted Game 4 refuge from rabid Miami Heat fans.
With TNT's studio crew broadcasting outside the arena following the Heat's 96-85 victory over the Chicago Bulls in Game 3 of the NBA Eastern Conference finals, Barkley became the focus of intense jeering and other acts of derision in the wake of his recent criticism of the Heat.
Because of that, a Turner Sports official Monday told the Sun Sentinel that the TNT studio show will originate all of its programming from inside AmericanAirlines Arena for Tuesday's Game 4.
Having called the Heat a "whiny bunch" earlier in this best-of-seven series, which the Heat now lead 2-1, Barkley playfully responded to Sunday's chants at one point with a middle-finger salute from each raised hand.
Read more about this decision at Sun-Sentinel.com.