May 27, 2011 – Joshua Sexton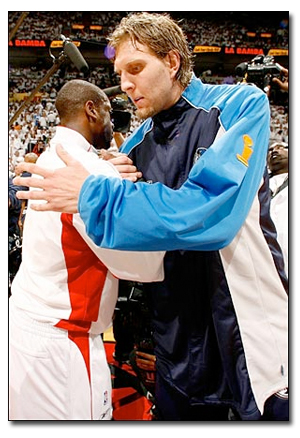 The 2011 NBA Finals are officially set. The Miami Heat will be taking on the Dallas Mavericks, in a rematch of the 2006 Finals. Game 1 will tip off Tuesday at 9:00 ET on ABC.
I don't think we can call this matchup a surprise, but it's safe to say it is definitely surprising to an extent. Throughout the regular season, Miami never really looked like the super team everyone expected. Despite winning 58 regular season games, it was believed by many their lack of experience playing together would be their undoing come playoff time.
Now, the Heat are headed to the Finals, and the team has only lost three games all postseason. The Heat are definitely who they thought they were. As far as the Mavericks are concerned, everyone was waiting for one of their annual playoff meltdowns. Thus far, the Mavericks have silenced their critics. They swept the defending champion Lakers in the conference semifinals, then they defeated the Oklahoma City Thunder in the Western Conference Finals, staging two impressive comebacks in games 4 and 5 of the series.
Game 1 Spread: Dallas at Miami (-4.5)
So, Vegas has Dallas as four and half point underdogs in Game 1. Really no big surprise. That is usually the average for a team playing on the road in a Finals game. Dallas has lost two road games this postseason, both of them coming in the first round against Portland. Conversely, Miami has not lost a home playoff game.
The Mavericks may not win Game 1 outright, but if I was betting man, I would take the Mavericks and the extra 4.5.
Here are some of the prop bets for Game 1.
Total Points for LeBron James: over/under 26.5
I will take the under on this one. James has averaged 26 points a game so far this postseason, while Wade has averaged 23 and Bosh, 18. Something tells me Wade will be the player with the big scoring game in Game 1, while James plays more of his dangerous facilitator role. LeBron will finish with 19, 12 rebounds and six assists.
Total Points for Dirk Nowitzki: over/under 25.5
I will take the over. I look for Dirk to get a lot of points from the charity stripe in Game 1. I predict he will finish in the range of 33-37 points.
Should be a great NBA Finals. There are plenty of storylines and future hall of famers in this one to keep all of us hoop junkies happy.
Joshua Sexton is a lifelong basketball fanatic, who watches as many games as possible. In addition, He has played and coached the game at the high school level. He has recently started writing about the game of basketball.