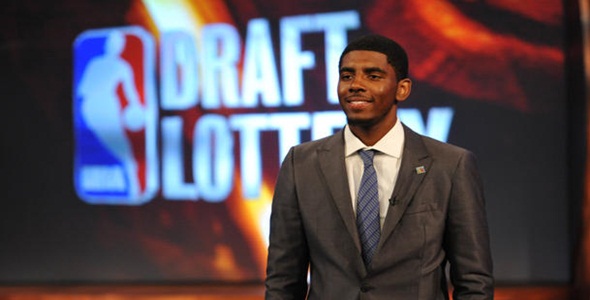 May 31, 2011 – Allen Moll
Now that we are roughly within a few weeks of the actual 2011 NBA Draft and all the early entry candidates have either declared or decided to remain in college for another season and the official Lottery draft order is intact, things are starting to come into focus leading up to June 23rd. 
Similar to last season with Wall and Turner, the field has shrunk with only 2 prospects, Duke's Kyrie Irving and Arizona's Derrick Williams, emerging as the probable first 2 selections.  After that it appears that anything goes as any number of players from Enes Kantner, Brandon Knight, or even Donatas Motiejunas, among others could be chosen with picks #3 through #10.
As such, these Mock Draft rankings are based on potential with this year's Draft order based on Draft Lottery results and current team records from the end of the NBA regular season. These are only my choices and not the consensus picks of all of The Hoop Doctors writers, with that said here is my 2011 Mock Draft:Version 5.0:
Draft Order
College Team
Player
Position
Physical

1.

Cle

Duke
Kyrie Irving
PG
6'2 180 lbs Freshman
Immediate impact player that is the total package from PG position. Excellent handles with great end-to-end speed, elite level scoring abilities, lock down defender, and has the ability to take over a game. Improved outside shooting to go along with great midrange game and high basketball IQ. 5 Star floor general that fills Cavs glaring need at PG that many compare to Chris Paul.  Should teams be concerned about his 10% body fat?

2.

Min

Arizona
Derrick Williams
PF/SF
6'9 240 lbs Sophomore
The 2 time PAC-10 POY has been every bit as good as advertised this season, and then some. Williams stock has skyrocketed as he has become a game-changing big man who projects well at the next level. After surprising fans with his outstanding play as an unheralded freshman last season, he has taken his game to another level, helping to make the Wildcats relevant once again out West. He uses his big body and at times overpowering strength to get into the paint to do most of his damage, leading all NCAA players at getting to the foul line. Has added range from last season extending to the 3 point arc, in addition to shooting more than 62% from the field.  Potential double-double performer in the mold of Carlos Boozer.

3.

Utah

Kentucky
Brandon Knight
PG
6'3   185lbs    Freshman
The next great PG in Calipari's long history of producing NBA ready floor generals after Rose, Evans, and Wall is Knight. Despite starting slowly Brandon has developed into an elite level shooter with an ever improving handle, matched with outstanding size, speed, athleticism, and above average defensive abilities. The jury is out on whether he will play the 1 or 2 positions at the next level because his shooting skills are way ahead of his ball-handling to this point. During the NCAA Tourney, he has shown the ability to take over a game without being the leading scorer. At only 19 years of age, we have only scratched the surface as to how good Knight can be.

4.

Cle

Kentucky
Enes Kantner
PF/C
6'10 260 lbs Freshman
The Turkish phenom's sitting out over eligibility concerns hasn't hurt his draft stock any as he is a bonafide Lottery lock.  It didn't expose any weaknesses, despite not really showing how well he would perform against some of the NCAA's top big men. But practicing in Coach Cal's pro style offense has to help even though most scouts are probably still impressed by his domination of International competition during last year's Nike Hoop Summit(where he broke Dirk Nowitzki's scoring record). Enes has amazingly soft hands contributing to an above average scoring and rebounding abilities.  He has the size and strength to contribute immediately at the highest level and could be a difference maker for the right team.

5.

Tor

UConn
Kemba Walker
 PG
 6'1   175lbs   Junior
Kemba keeps proving everyone wrong. We all kept saying he was too small, isn't a good enough shooter, and isn't capable of running and leading a team. He proved everyone wrong by helping UConn make arguably the greatest postseason run in NCAA history, sweeping the Big East Tourney and winning the National Title. He exudes star power by becoming an elite level scorer, with playground like handles, and the heart and determination of a champion. Walker has all the skills to be a star at the highest level despite concerns about his diminutive size.  Comparisons to Iverson are inevitable.

6.

Was

Czech Republic
Jan Vesely
SF/PF
6'11   230lbs   International
Not many players tend to pass up a chance to earn millions in the NBA to remain another season in Europe, but the move appears to be paying off for Vesely as he showed great improvement this season in the Euroleague.  Jan has shown a more ferocious demeanor around the rim this year as he attempts to dunk on seemingly every possession playing for Partizan. Although possessing a more slender frame, many scouts have compared Vesely to the European version of Blake Griffin, as he continually posterizes dozens of opposing players. He has terrific size(6'11) and length to play the SF position in the NBA although concerns remain defensively as to whether he can guard smaller quicker players.  Like many European players, contract issues remain, as he would have to be bought out if he is to play next season in the NBA.

7.

Sac

San Diego St
Kawhi Leonard
SF
6'7  225lbs   Sophomore
Anyone that has watched a SD State game this season can attest that the 2nd year forward has developed into hands down the hardest working player in the nation. Despite not having a defined position, he possesses excellent strength and length for a wing player, showing off his high motor and athleticism on drives to the basket. He has an excellent first step, enabling him to finish with authority or pull up for a short range jumper. For the season he averaged a double-double in helping lead his squad deep into the NCAA Tourney. On the flip side, he sometimes relies too much on his explosiveness and at times takes too many off balance shots, as well as needing to improve his perimeter shooting(27%). Leonard's stock is on the rise as despite playing either SG, SF, or PF at times, he is undeniably an NBA talent as he is one of the nation's best athletes on the hardwood.

8.

Det

Lithuania
Jonas Valanciunas
PF/C
6'11  240lbs  International
At only 18 years of age, Jonas was the perfect compliment to Donatas Motiejunas on the Lithuanian National Team this past Summer. Although still considered a raw talent, he has an incredible wingspan(7'6) that makes him very difficult to defend on the offensive end. Right now he is clearly a low block player with range on his jumper extending only to about 10-12 feet, but is reportedly a tireless competitor who ranks among the most improved players in all of Europe over the past 2 seasons.  Jonas has a motor that doesn't quit, runs the floor like a gazelle, and is an outstanding offensive rebounder.   He still needs to improve strength and conditioning to compete against NBA bigs but has unlimited potential. 

9.

Cha

Texas
Tristan Thompson
PF
6'9   230lbs    Freshman
Perhaps the very best of the Longhorn's fabulous freshmen, the Canadian born Thompson has come on strong down the stretch and now ranks as an elite level talent among NCAA big men.  His stock has skyrocketed behind a string of double-double performances that saw him average 18 points and 12 rebounds over the last month of the season in leading Texas all the way to the Big 12 Finals.  Tristian has a rare skill set for a PF where he is an absolute beast in the painted area yet has decent handles and is more than capable of taking his man of the dribble when needed.  While he is still a raw talent, there's no doubt that he may be drafted on pure potential as he could one day be a sleeper of this year's draft. 

10.

Mil

Colorado
Alec Burks
SG
6'6  191lbs   Sophomore
Possessing excellent size to play the 2 guard at the next level, the average fan probably hasn't heard much of Burks until he helped lead the Buffaloes to a deep run in the Big 12 Tourney and an NIT Title. He has shown the ability to score and hit big shots, immediately drawing comparisons to former Colorado alum Chauncey Billups. Alec, an athletic wing with long arms who is an aggressive player off the dribble, actually prefers to get to the rim, while others are more comfortable settling for the jumper. He's more than just an elite scorer as he rebounds well(6.5 reb) from the 2 guard position, has above average handles, and is an outstanding passer. He still needs to improve his 3 point shooting and add weight to a thin frame but has outstanding size and skill-set to be one of the sleepers in the draft. 

11.

GS

Kansas
Marcus Morris
SF
 6'8   230lbs   Junior
Marcus may very well be the most complete front-court player in the entire draft. He can shoot from the perimeter, is capable of banging down low, or taking his man off the dribble. When on the court, Morris is capable of dominating a game as he led the Jayhawks in scoring(17.2 ppg), as well as grabbing 7.6 rebounds per night. He also shoots nearly 60% from the field and an impressive 35% on treys. He has scored in double figures in all but 2 contests and ranked among the nation's leaders in double-doubles. He brings an added toughness from Philly that exceeds most players at his position. Is average defensively because of a short wingspan. Marcus's stock is on the rise even though his Jayhawks suffered an early exit from March Madness. Although he played mostly PF in college, Marcus will have to look to be more of an offensive minded SF at the next level because of lack of height against bigger forwards.

12.

Utah

Lithuania
Donatas Motiejunas
PF
7'0   225lbs   International
While some rate Vesely or Valanciunas as the best pure International prospect, in my opinion Motiejunas has the most potential to be a star in the NBA. At only 20 years of age, he has blossomed into one of the best scoring big men in all of Europe as he is currently averaging 13 ppg, shooting nearly 60% from the field, including more than 44% from behind the arc at the highest level in the Italian leagues. Since withdrawing his name from last year's Draft, Donatas has added 10 lbs of muscle and has showed a bit more toughness making international scouts compare him to current NBA superstars Pau Gasol and Andrea Bargnani. Defense and rebounding remain as areas of improvement but has the potential to be a real sleeper of the Draft.

13.

Pho

Congo
Bismack Biyombo
C
6'9   245lbs    International
Prior to this year's Nike Hoop Summit, not many fans outside of the Spanish Leagues in Europe had heard of the 18 year old native of the Congo.  But after blocking 10 shots and registering the Hoop Summit's first ever triple-double, against USA's best HS Players I might add, NBA GM's are slobbering over his amazing talent and athleticism.  He already has an NBA sized body and may already be as fast as anyone running the floor at his position.  Despite being a dominating and intimidating force on defense, his offensive game is very raw.  There are also questions about his actual age as some insist he has the body of a grown man rather than that of a teenager. 

14.

Hou

Texas
Jordan Hamilton
SG/SF
6'7   225lbs   Sophomore
While there have been some questions early on concerning attitude and coach-ability, Jordan's talent is undeniable. After an up-and-down freshman season last year, Jordan became the go-to-guy for coach Barnes in '10-'11. He is one of the Big 12's best scorers, averaging a team best 18ppg, to go along with nearly 8 rebounds, and 2 assists per game. He's had 16 games of 20 or more points and could help a team offensively from day 1 at the next level. He has excellent size(6'7) for the 2 guard position but could also play SF in smaller line-up. He is one of the premier shooters and scorers in the '11 Draft class, and is an absolute threat to knock down shots anywhere on the floor. Jordan arguably has Top 10 talent but at times suffers from bad shot selection and tends to shoot too many threes. Nonetheless, his size and offensive prowess are tailor made for the NBA game.

15.

Ind

Wash St
Klay Thompson
SG
6'6   205lbs  Junior
After earning the "soft" label almost exclusively as a great perimeter shooter in his first 2 years in college, Klay has developed nicely into one of the nation's best scorers as evidence of his gaudy 22 ppg average. His touch and body control are outstanding using the dribble-drive to get to the basket and has become far more than just a 3 point shooter. NBA GM's are may look to transform him into a high scoring SF or bigger SG at the next level but still could stand to add weight. Defense will always be an area of concern because of only average athleticism but he has made great strides in his all around game to be considered a 1st round selection. A late season arrest for possession of a controlled substance may see him slide a bit. 

16.

Phi

Morehead St
Kenneth Faried
PF
6'8 230 lbs Senior
Perhaps no one player's stock is on the rise as that of Faried. In his 4 seasons at a small Kentucky school, all the dominating big man has done is break Tim Duncan's long-standing rebounding record, while leading his squad to the 2nd Round of March Madness. He has one of the best motors on the planet and exudes athleticism that enables him to be an elite level rebounder and defensive stalwart. Offensively is where Faried's game struggles as he relies mostly on lay-ups on offensive rebounds and short jump hooks, in addition to some nasty putback jams over defenders. Many have compared him to the modern day Dennis Rodman, and the comparison isn't far off, minus all the tatoos and multi-colored hair. He is a physical specimen in the mold of Ben Wallace.

17.

NY

Kansas
Markieff Morris
PF/C
6'9   240lbs   Junior
As one of the safest picks in this year's Draft, the other Morris twin at Kansas is more of a conventional 4 or 5 at the next level.  He has excellent size, strength, and touch to be a solid contributor for a contending team.  He has an unstoppable motor, above average rebounding skills, and blocks about 1 shot per night.  One way he is similar to his brother Marcus is that he possesses long range shooting skills as he connected on 42% from downtown.  Despite having outstanding low block skills and great touch from behind the arc, Markieff lacks a mid-range game and is limited by only average athleticism.  Late 1st to early 2nd Round seems appropriate since he doesn't have as high of a ceiling as other PF prospects.

18.

Was

Tennessee
Tobias Harris
SF
6'8   225lbs   Freshman
In his first season under the now dismissed coach Bruce Pearl, the once highly touted HS prospect adapted nicely to rank 2nd on the Volunteers in both scoring(15.3) and rebounding(7.3). Despite his team's roller coaster of a season, Harris has been the model of consistency, scoring in double figures nearly every game of the season. He is a tremendous mismatch in that he can take his man off the dribble in addition to being big enough to bang down low. He has amazing passing skills and has been known to take a defensive rebound all the way to the cup on occasion. He is a noted gym rat, has shown versatility by being able to play nearly any position on the court with his skill set and size. Tobias shows promise defensively as well because of a tremendously long wingspan and large frame. Harris is still a work in progress and considering he's one of the youngest players in the college ranks he would benefit from another year at Tennessee but is good enough to be selected in Round 1. Potential could be unbelievable once his body fills out.

19.

Cha

BYU
Jimmer Fredette
PG
6'2   195lbs   Senior
Most teams out West can verify that Fredette is the most potent offensive player in this year's draft. He has swept most NCAA POY Awards as the nation's leading scorer and has scored 30+ points an amazing 20 times this season, highlighted by a 52 point gem in the MVW Semis. While he is an elite level collegiate player, there are questions as to how he will defend opposing guards at the next level. Even though he possesses only an average level of athleticism and struggles a tad on defense, he more than makes up for it with toughness and determination. Although it probably dates me, Jimmer reminds me a bit of former Cavaliers PG Mark Price.

20.

Min

Florida St
Chris Singleton
SF
6'9   225lbs   Junior
As one of the more intruiging players in the entire draft, Singleton decided to return to Florida State this season to prove he can be a go-to-guy and to further develop his offensive game. He has a prototypical NBA physique and reminds some scouts of Josh Smith or Gerald Wallace. He can drain the occasional three(41%) but still struggles to find his own shot. Since he has improved his low post game, it is difficult to predict exactly where he will be selected as some Mocks have him as either a Lottery sleeper or missing the 1st round all-together. He shook off an unfortunate knee injury late in the year but returned in a limited capacity to help the Seminoles play into the final weekend of March Madness. Defensively, Singleton shines, possessing lock-down ability even at the next level. If healthy, he could be a sleeper in this year's Draft.

21.

Por

USC
Nikola Vucevic
C/PF
6'11   240lbs   Junior
While many were shcocked that the near 7 foot, sweet shooting Trojan big man declared for the Draft early, they shouldn't be.  Nikola projects well at the next level because he is tailor made for the pick-and-roll heavy NBA.  In the typical European mold, he has an above average long range shot, balanced out by some developing low post moves.  At this point is still an average rebounder and has shown much more mobility than expected.  Vucevic's stock is on the rise after measuring out extremely well at the combine.

22.

Den

UCLA
Tyler Honeycutt
SF
6'8   185lbs   Sophomore
Honeycutt is a 6'8 versatile and athletic player who can interchange between the off guard and forward positions as his long arms and active movement help him hit the boards hard and rebound the basketball despite being just under 200lbs. He's deceptively quick in the post, yet equally potent from the perimeter. He definitely needs to add bulk to guard bigger players at the next level, hence he is better served at the SF position. He also could use work creating his own shot. Tyler is reportedly one of the hardest workers in practice and projects as a stat stuffing player in the Tayshaun Prince/Josh Childress mold. Could have been a Top 10 player with another year of seasoning. 

23.

Hou

Michigan
Darius Morris
PG
6'4   190lbs   Sophomore
As arguably one of the most improved players in the nation this season, the sophomore PG increased his numbers across the board on the way to becoming one of the Big 10's best players. Possessing great size for the PG position, Morris is able to overpower most opposing guards, giving him an extreme advantage against most defenders. Although he is prone to a high number of turnovers, Morris has more than doubled his output when it comes to being a facilitator, ranking among the top assist men in the country. With that being said, most scouts agree he needs another year of seasoning after most weren't even sure if he was a PG or SG as a frosh. He needs to drastically improve his outside shooting as he really isn't a threat from behind the arc and must improve lateral quickness to defend quicker PG at the next level. Even though he has more negatives than positives to this point, he insists on keeping his name in this year's draft.

24.

OKC

Duke
Kyle Singler
SF
6'8   230lbs   Senior
While it's a bit puzzling to figure out just why Kyle's numbers were down across the board in his senior season, he remains one of the best all-around players that the college ranks have ever seen. His production has been almost legendary, ranking in the Top 5 in most offensive categories in Duke history. He has been stuck in a prolonged shooting slump that goes back to the 2010 calendar year but has a plethora of moves to create space and score at an above average level. Despite a lack of overwhelming athleticism, Singler excels in nearly every facet of the game from rebounding, passing, ball-handling, and even holds his own defensively. He is the consummate winner and team player, qualities that some NBA coaches long for.

25.

Bos

Providence
Marshon Brooks
SG/SF
6'5   190lbs   Senior
Despite playing on a bad team in the nation's best conference(Big East), the wiry thin Brooks has quietly become one of the country's most prolific scorers. He and Jimmer Fredette are the only players to top the 50 point mark in a game this season and finished 2nd in the nation behind the BYU star with a gaudy 24.6 ppg average. He scored 20 or more in an NCAA best 26 games this season and had contests of 52, 43, and twice notched 33 point efforts during the regular season. Brooks is one of the more intruiging players in the draft as he can score from anywhere on the floor, has impressive handles, and has the physical tools to play against bigger defenders because of his outstanding length. Brooks is truly one of the premier players in the nation because of his play on offense, and his undervalued defensive play but gets seemingly little respect or attention around the nation. Concerns over rail thin frame, at times questionable shot selection, and average athleticism.

26.

Dal

Georgia
Travis Leslie
SG/SF
6'4   202lbs   Junior
While mostly known nationally for serving up a facial on DeMarcus Cousins last season, Leslie is a freakish athlete, who ranks amongst the top physical specimens in the '11 draft class. With rare athleticism, length and strength at 6'4, Leslie played an undersized SF at times. While at this point he relies too much on his physical attributes, he is a tremendous backcourt rebounder, as evidence of pulling down 7 boards per night this season. He has a still developing jumper, extremely high motor, and excellent on-ball defense, to go with explosive leaping ability. Able to guard multiple positions using his combination of strength and agility. Still needs to work on ball-handling and creating his own shot but GM's absolutely love his potential. Future NBA Dunk Contest contestant. Must improve long range shot and catch and shoot ability to get regular minutes as 2 guard at next level.

27.

NJ

Tokyo Apache
Jeremy Tyler
C/PF
6'10   250lbs   International
Although his skipping some time in HS to play overseas experiment has to be considered a disaster, he did get some valuable time against legit pro players.  The former #1 rated HS player is still a project at this point but measuring out at nearly 7 feet, and posessing an amazing 7'5 wingspan, all in a surprisingly mobile body is a rare combination that some GM's will clamor for.  To this point he's primarily a low block player but shows promise on an improving midrange jumper and could develop into a dominating PF/C for years to come. 

28.

Chi

Duke
Nolan Smith
SG
6'3   189lbs   Senior
Nolan has proven over his 4 years at Duke that he is the ultimate competitor, providing Coach K whatever is needed to help his team win. In Kyrie Irving's absence, Smith took his game to another level, showcasing above average PG skills and a high basketball IQ to lead the ACC in scoring and finish 2nd in assists last season. Despite being slightly undersized, Smith regularly got the best of opponents in college behind some spectacular handles and quick strike dribble moves as he changes pace and direction with a great hesitation move. Defensively, he may have problems guarding bigger 2?s in the NBA and lacks explosiveness but his determination and toughness balance him as a player. Winning on the biggest stage for the most respected coach in college basketball can only help his draft stock. 

29.

SA

Cleveland St
Norris Cole
PG
6'2   175lbs   Senior
Norris is the perfect example of a player making the right decision to stay in school. By returning for his senior season, he has steadily increased his all-around numbers to being the lone Division I player to average 20+ points, 5+ rebounds, and 5+ assists. He burst upon the national scene with his 41 point, 20 rebound, 9 assist effort against an opponent in February but his biggest improvement has been his true PG skills, where he was a finalist or the Bob Cousy Award given to the nation's best PG. He's a solid PG prospect with above average offensive abilities and is at his best in pick and roll situations. Some concerns include lack of high level competition, having only average athleticism, and must improve range on his jumper as he doesn't connect on a ton of shots from three. Norris is a 4 star PG prospect, better served as a scorer than facilitator on a team with an already in place superstar.

30.

Chi

Butler
Shelvin Mack
SG
6'2   215lbs   Junior
As the big shot taker on the nation's runner up squad two years running, Mack has finally become a household name because of all the exposure that comes with deep Tourney runs. His shooting range and physical strength are two attributes that translate nicely for NBA play. Shelvin compares favorably to that of Ben Gordon as an instant offense type of shooter/scorer at the lead guard position. Has good handles and plays excellent defense and is one of those long range shooters that has range anywhere inside the gym. Has the physique of an NBA linebacker with huge shoulders and a barrel chest and uses his excellent body strength to his advantage. Some question what exact position he projects as at the next level as he has excellent size for PG yet doesn't possess the necessary ball-handling skills to be a starter.
Players stock on the rise:
Kawhi Leonard, SF, San Diego St – The ulta athletic SF prospect measured out extremely well at the combine, having an enormous 7'3 wingspan, which is longer than many center prospects.  He has prototypical size to make an immediate impact from Day 1.  Many mocks have begun to show some love, taking him from probable 1st Rounder to potentially see him creep into the Lottery.
Nikola Vucevic, C/PF, USC – While not many fans on the East Coast have seen him in action during the season, the promising big man has an impressive inside out game and a surprising mobility that bodes well in the pick-and-roll heavy NBA.  After measuring out a legit 6'11 and 3/4 in shoes, with a 7'4 wingspan, and the tallest standing reach(9'4) out of his group, Vucevic seems poised to burst into the late 1st Round.
Marshon Brooks, SG/SF, Providence – It's surprising that the nation's 2nd best scorer, behind Jimmer Fredette of course, and after playing in arguably the nation's best conference(Big East) that more fans don't know about Brooks.  He measured out with an impressive 7'1 wingspan and despite concerns over his thin frame weighed in heavier than Alec Burks, who has a height  advantage as the top SG prospect.  Brooks can flat out score and is beginning to get some mid-1st Round buzz. 
Brandon Knight, PG, Kentucky – Some scouts are beginning to rank Knight as the #1 PG prospect over Irving simply because he both measured out well and was hands down outstanding in drills.  Many also think Knight may have a higher ceiling because of his already impressive long range shooting prowess.  I wouldn't be surprised to hear him get some consideration for the #1 overall pick by Draft day.
Josh Selby, PG, Kansas – Despite having an up-and-down freshman campaign marred by ineligibility, offensive inconsistencies, and an unwillingness to adhere to coach Bill Self's offensive scheme, Selby is wowing those in attendance at the combine.  His physical measurements(6'2) quelled any doubts about his percieved lack of height and ranked #1 in vertical leap among all players.  It no secret that the Knicks, sitting at #17, would love to select Selby as the heir apparent to Billups in a few seasons.
Players Stock declining:
Trey Thompkins, PF, Georgia – Despite being a potential Lottery selection prior to last season, Trey hasn't faired well at the combine.  He came in with the highest (15%) percentage of body fat among all players and compared unfavorably among other PF in drills.  He did fare better in the shooting drills, ranking amongst the better midrange bigs, but his limited mobility opened some eyes.  It appears that Thompkins may slip into 2nd Round territory.
Jimmer Fredette, PG, BYU – As the nation's leading scorer and national POY, to many, Jimmer has unreal expectations.  He measured out about what was expected(6'2 in shoes) but  had the smallest hands of any PG in attendance.  After initially being projected as a late Lottery selection during the season, Jimmer has slipped way down into the 20's.  Many are concerned he is JJ Redick V2.0. 
Jonas Valanciunas, C/PF, International – While many consider Jonas the best international prospect on the board, and projected as high a the #4 pick by Cleveland, some teams looking for an instant impact player may want to reconsider taking him so high.  Even though he is a raw 19 year old 7 footer who is a surefire Lottery pick this season, the Lithuanian big man has hinted that he doesn't feel he's ready to play at the highest level just yet.  He may slide a bit to a team that doesn't have a pressing need next season as he will undoubtedly need to be bought out to become an NBA player. 
Kyrie Irving, PG, Duke – While most think Irving made the right choice in skipping the workout portion of the combine, it has narrowed the gap between he and the #2 rated prospect Brandon Knight.  He measured in at a respectable 6'3 in shoes but sent up a few red flags weighing in at 191lbs and an alarming 10% body fat.  Some are beginning to question whether a player with 11 NCAA games to his credit, coming off of a serious injury, and appearing out of shape is worthy of the #1 pick.
Jordan Hamilton, SG/SF, Texas – Measuring in at an impressive 6'8 in shoes, which was an inch or 2 taller than expected, was a good thing.  But struggling and finishing near the bottom among other prospects in his group during drills doesn't.  Although he displayed an adept 3 point shot during the season, Hamilton struggled to find his shooting stroke in the drill portion of the combine.  Add that onto the perception that he sometimes bristles with authority and some teams have already begun to recoil.  I still believe Jordan to be a promising NBA player but several mocks have him sliding to late 1st Round.
Allen Moll has been a lifelong NBA and NCAA College Basketball fan who watches and studies games religiously, and coaches youth basketball in his native Lehigh Valley region of Pennsylvania.  Allen also provides content to Bleacherreport.com, Upperdeckblog.com, in addition to being a tenured NBA and NCAA columnist for TheHoopDoctors.com.