April 15, 2011 – Allen Moll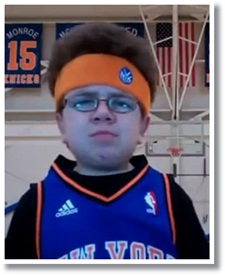 When it comes to the internet merging with basketball, there have been a number of highly interesting and entertaining moments caught on video. We all remember former NBA superstar Stephon Marbury famously crying and eating glue a few years ago. Wow, that video essentially ended any chance Steph had of ever playing again in the Association.
Shaquille O'Neal has a huge following online as he has proven to be very comfortable on camera like when he donned a white glove and imitated Michael Jackson at a video game premiere or when he teams with some of his Celtics teammates to spoof a Rick Ross video. Shaq even showed up backstage at a Justin Bieber concert to sing a duet with the teenage musical sensation.
More recently, Milwaukee Bucks star Brandon Jennings was caught doing a rather unflattering feminine impression of pop star Lady Gaga.
But online performer named Keenan Cahill may be the top dog when it comes to entertainment in front of a webcam.  If you haven't checked out his youtube page Keenan's Room, your surely missing the boat on some top of the line entertainment on all of the internet.  You'll die laughing at Keenan's humorous reinactments of some of the music industry's biggest hits.
Keenan is an aspiring and lovable 16 year old comedian/actor/singer originally from Chicago who has overcome some pretty tough obstacles in life, like a rare genetic disease that eventually leads to severe disability and a shortened life span. To his credit, Cahill refused to let his illness hold him back and has achieved international acclaim and recognition for his online webcam based video spoofs and imaginative recreations of some of the music world's biggest stars like 50 Cent, Michael Jackson, and the Black Eyed Peas. My personal favorite has to be his rendition of Katy Perry's "Fireworks."
Despite hailing from the "Windy City," Keenan is actually a huge NY Knicks fan. Wait,…..what? No really, the pint sized prime time performer recently made a promotional video shot at the Knicks training facility featuring rookies Landry Fields and former Syracuse stand-out Andy Rautins.
Check out Keenan Cahill, Landry Fields, and Andy Rautins in "Go NY Go":
Allen Moll has been a lifelong NBA and NCAA College Basketball fan who watches and studies games religiously, and coaches youth basketball in his native Lehigh Valley region of Pennsylvania.  Allen also provides content to Bleacherreport.com, Upperdeckblog.com, in addition to being a tenured NBA and NCAA columnist for TheHoopDoctors.com.