April 11th, 2011 – Allen Moll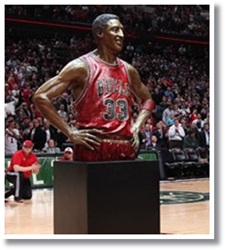 For the life of me, I don't understand why it took this long. The Chicago Bulls organization has become one of the most prestigious and winningest franchises in the NBA. Although they are seeing a resurgence recently behind the play of Derrick Rose, the Bulls can be considered NBA royalty mainly because of their 6 World Championships won during the 1990's. If Michael Jordan wouldn't have decided to try his hand at baseball in mid-stride, they arguably would have won 8 straight Titles.
To the casual fan, most attribute the Bulls decade of dominance in the 90's to just one player…Michael Jordan. True, MJ grabbed the torch from Larry Bird and Magic Johnson before him and took the NBA to new heights of popularity that we see today. And, oh by the way, in my opinion he is the most unstoppable and iconic sports figure of the modern era in any sport, and rightfully so is known universally as the G.O.A.T. That's not even up for debate.
But to those like myself, who were avid Bulls fans back in the day, Jordan may not have ever won all of those Titles without the services of arguably the greatest small forward of all-time, Scottie Pippen, at his side. The two were the perfect compliment to each-other, seemingly thinking alike at all times, and dominating the opposition to the tune of 592 wins from '88-'98, including an NBA record 72 regular season wins during the '95-'96 season.
While Pippen haters will argue that Scottie never won anything without Jordan, the same can be said of Jordan without Pippen. During our Scottie Pippen Rewind Series, we gave you all the stats: 8 Time All Defensive 1st Team, 7 Time All Star, 3 Time All NBA 1st Team, All Star Game MVP, Member of the 50 Greatest Players in NBA History List, and Inducted into the Naismith Basketball Hall of Fame.
Last Summer, we passed the news on to you that the Bulls organization was going to officially give Scottie his own statue, similar to the one outside of the United center of MJ, sometime during this season. That time has finally come as the Bulls finally decided to honor Pippen, who ranks 2nd all time in Bulls history in scoring, rebounds, assists, steals, and games played, with his very own bronze statue that will be forever displayed inside the United Center concourse.
You can check out some exclusive video of the ceremony and statue unveiling HERE.
For those of you that missed it, check out an awesome video of Pip in his prime:
Allen Moll has been a lifelong NBA and NCAA College Basketball fan who watches and studies games religiously, and coaches youth basketball in his native Lehigh Valley region of Pennsylvania.  Allen also provides content to Bleacherreport.com, Upperdeckblog.com, in addition to being a tenured NBA and NCAA columnist for TheHoopDoctors.com.