March 2, 2011 – Allen Moll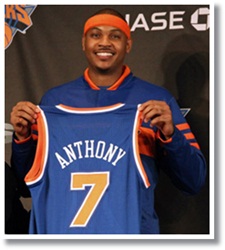 You just knew it was coming. With everyone in the New York tri-state area now crowning the newly acquired Carmelo Anthony as the new "King of New York", it was inevitable that Anthony and Ama're Stoudemire would get their own theme song. Well, it didn't even take a full week until we've seen a plethora of Stat and Melo songs come in. There's even a Kentucky themed "Blue and White" if you're into college basketball and the Wildcats.
Sticking to the ever popular theme of rhyming over someone else's beat, Brooklyn born rapper Maino was the first to come out with a credible, and at least listenable Wiz Kahlifa remix anthem for New York's two newest superstars titled "Yeah Carmelo."
Take a listen:
Yeah Carmelo- Maino by Executive Nick
But the absolute best has to be from an artist known as Judge, who coincidentally flows on Ama're Stoudemire's record label Hypocalypto.   Just like Maino's version, he borrows the beat from Wiz Kahlifa's heatseaker "Black and Yellow" from around the time of the Super Bowl with the new NY Knicks hoops anthem "Stat and Melo." Enjoy.
Allen Moll has been a lifelong NBA and NCAA College Basketball fan who watches and studies games religiously, and coaches youth basketball in his native Lehigh Valley region of Pennsylvania.  Allen also provides content to Bleacherreport.com, Upperdeckblog.com, in addition to being a tenured NBA and NCAA columnist for TheHoopDoctors.com.