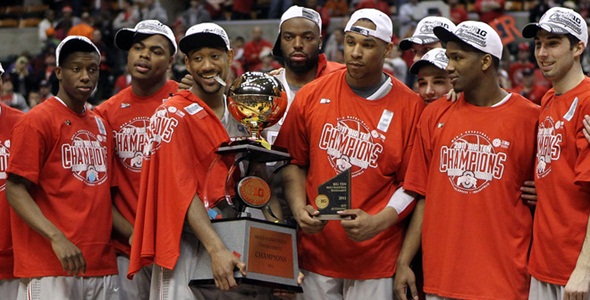 March 14, 2011 – Allen Moll
It's arguably the 2nd most exciting week in college basketball – Conference Tournament Week. While the regular season, as tough as it is, is difficult to navigate through, winning the Conference Tournament is for all the marbles. A Tourney crown is the last thing anyone remembers prior to moving on to the "Big Dance" and ultimately determines your team's seeding in the NCAA Tournament.
This year's Conference Tournaments in the Big Six Conferences featured some outstanding individual performances that helped propel their clubs to team success in winning the culmination of a great season.
Here are my Prime Time Performers in the Big Six Conference Tournaments:
Isaiah Thomas – PAC-10

Final Score: Washington77, #16 Arizona 75
The little man(5'9) with the big heart almost single-handedly took the Huskies off the proverbial bubble for the NCAA Tournament by hitting the winning jumper in overtime, as time expired, of the Championship Game to lead Washington to the PAC-10 Conference Tournament crown over the favored Arizona Wildcats. The junior player named after NBA Hall of Famer Isiah Thomas, and is known as "Little Zeke" has a game that reminds me of former NCAA POY Jameer Nelson of St. Joes nearly 10 years ago. While he scored an impressive 28 points, to go with 7 assists and 4 three pointers in the Finals, he was outstanding the entire Tourney, averaging 19.3 ppg, 10 assists, 4 rebounds, 3 steals, and made 8 treys in 3 games.
Brandon Knight – SEC

 Final Score: #15 Kentucky 70 , #12 Florida 54
Coach Cal's freshman leader was once again steady if not spectacular in Kentucky's lopsided win over regular season SEC Champion Florida Gators. He scored 17 points in leading the legendary Kentucky program to their record 27th SEC Tourney Title. With fellow starter Doron Lamb hobbled with an ankle injury sustained against Alabama in the Semi's and Terrence Jones slumping, Knight came up big the entire Tourney averaging a team leading 15.5 ppg, 6.3 assists, and 4 rebounds in making the All Tournament Team.
Kemba Walker – Big East

Final Score: #19 UConn , # 14 Louisville
Is there any question that Kemba Walker had the best 5 days in the history of college basketball? All he did was become the first player in Big East tournament history to score 19+ points in 5 straight contests, set the all-time scoring mark, and led his club to 5 consecutive victories to take home the Conference Tourney crown. In the final against a spirited and much more rested Cardinals squad, Kemba made the right decision to dish to teammate Jeremy Lamb for the go-ahead basket rather that force up another game winning attempt in the game's final moments. It was the Huskies 7th Big East Tournament Title matching Georgetown for the all-time lead. In the Tournament Kemba was obviously the MOP with averages of 24.4 ppg, 4.2 assists, and 4 rebounds including his breathtaking game-winning shot to beat top seeded Pitt.
Nolan Smith – ACC

Final Score: #5 Duke 75 , #6 North Carolina 58
Despite giving the Duke faithful a heart attack in the Semi-Final round against Virginia Tech as he laid on the Greensboro Colosium floor in obvious pain from a toe injury. Smith made an improbable return in the Finals to score 20 points and dish out 10 assists in helping lead the Blue Devils to their record 19th ACC Tournament crown, their 3rd straight and 10th over the last 13 years. Smith averaged an impressive 18 ppg and nearly 6 assists in possibly helping Duke earn one of those coveted #1 overall seeds in the upcoming NCAA Tournament.
Marcus Morris – Big 12

Final Score: #2 Kansas 85 , #10 Texas 73
Junior forward Marcus Morris led a spirited all around team effort in Kansas' dismantling of upstart Texas in the Big 12 Title Game. Morris was the Longhorn's best player averaging 17.7 ppg and 10 rebounds helping Kansas to a record 8th Big 12 Conference Tourney Titles. Can Kansas now make a case for the #1 overall seed? Their in the running, but probably will be the 2nd #1 behind Ohio State who won another Big 10 crown. Kansas got revenge on conference rival Texas after a disturbing loss sustained to the Longhorns on January 22nd.
Jared Sullinger

Final Score: #1 Ohio State 71, Penn State 60
The Buckeyes fabulous freshman Jared Sullinger keeps exceding his lofty expectations heaped upon him during the pre-season. Jared was again dominant inside as he tallied another double-double(15 pts, 11 reb, 3 blk), his 3rd in 3 games in the Tournament, to help lead the Buckeyes to the Big 10 Conference Tourney crown. Sullinger was named Tourney MVP behind averages of 16.3 ppg and 14 rebounds, in playing like a seasoned upperclassmen. William Buford was also big in the win contributing 18 points.
Allen Moll has been a lifelong NBA and NCAA College Basketball fan who watches and studies games religiously, and coaches youth basketball in his native Lehigh Valley region of Pennsylvania. Allen also provides content to Bleacherreport.com, Upperdeckblog.com, in addition to being a tenured NBA and NCAA columnist for TheHoopDoctors.com.