March 17, 2011 – Allen Moll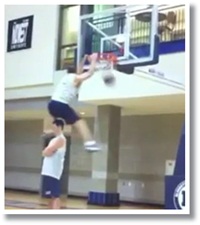 I'll bet that most of you in college basketball circles haven't heard of Jacob Tucker. It's alright, because I had never heard of him either until his dunking highlight video went viral last week in hopes of competing in the annual NCAA Slam Dunk Competition held every year during Final Four weekend.
One might say what makes Tucker so special for the NCAA to even consider adding a Division III player to the event? After watching the video, Tucker appears almost every bit as physical as NBA Slam Dunk Champion Blake Griffin and he has been measured at having a 50 inch plus vertical leap.
Tucker, who by the way is of the caucasian persuasion, is only 5'11 inches tall but is actually a very good ballplayer. As a senior, he led the tiny Division III school Illinois College in scoring at nearly 15 ppg.
He has seen his dunking prowess audition tape on Youtube travel everywhere from local Illinois college campuses all the way to ESPN studios where he did a call in on ESPN's First Take. His entertaining video where he does all the usual dunk contest dunks, including the one that Blake Griffin failed to complete in the big boy contest, has gotten more than 2 million hits.
Let's make it 2 million +
Allen Moll has been a lifelong NBA and NCAA College Basketball fan who watches and studies games religiously, and coaches youth basketball in his native Lehigh Valley region of Pennsylvania. Allen also provides content to Bleacherreport.com, Upperdeckblog.com, in addition to being a tenured NBA and NCAA columnist for TheHoopDoctors.com.