February 1, 2011 – Allen Moll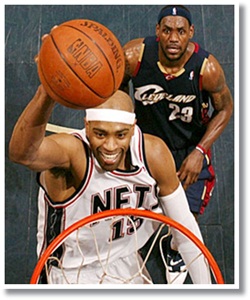 Surely if any NBA player would ever wish that they could hop into a hot tub time machine and turn the clock back 10 years, it would have to be Vince Carter. Ok, maybe T-Mac or Grant Hill would join him. But seriously, back in 2001, Vince was on top of the world, coming off of arguably the most impressive Slam Dunk Contest performance ever in 2000 (including MJ's earlier efforts), averaging a career high 27.6 ppg, and had led his Toronto Raptors to a deep Playoff run highlighted by an old time shoot-out with future Hall of Famer Allen Iverson and the Sixers.
Even though the Raptors came up 1 win short in that magical series of advancing to their first ever Eastern Conference Finals in franchise history, Vince further enhanced his profile as one of the most electrifying players in the league by scoring 30 or more points in 3 games, including a 50 point explosion highlighted by his tying a then Playoff record 9 three point shots made.
While his team came up short, on a personal note, Carter began a run as one of the truly elite players during the decade even though he played in a full 82 games only once over the next 10 seasons. He developed a sort of cult following, primarily since he was universally known as the Association's best dunker and was given the nicknames "Half Man-Half Amazing", "Air Canada", and my personal favorite "Vinsanity."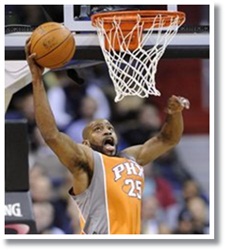 Unfortunately due to injuries and at times abandoning the drive for playing behind the 3 point arc way too often when he was healthy, we have seen one of the most athletically gifted players in league history be relegated to becoming a contributing role player on 3 teams over the past 3 seasons in New Jersey, Orlando, and now Phoenix. With his contract up and with free agency looming in the Summer of 2011, the now bearded VC has been showing the wear and tear of 13 NBA seasons and some significant injuries for some time now, and at 34 years of age, one has to wonder just how long we will bear witness to his high wire act?
With that being said, every once in a while the former showstopper, who helped even the Toronto Raptors sell out home games, gives us a glimpse of his former self like when he sinks an amazing 86 foot World Record setting shot, pulls off a sweet 360 on a break-away, or occasionally still throws down one of those patented baseline windmill jams we've all come to know and love..
Happy belated 34th birthday Vince. All of us on staff here at TheHoopDoctors.com are big fans and hope to bear witness to the Vinsanity for at least a few more years as we will surely be monitoring your future destination very closely this upcoming Summer. Here's hoping that you didn't get too winded blowing out all 34 candles on that birthday cake that coach Gentry gave you!
Check out a video of Vince Carter's Top 10 Career Dunks (if you don't include THIS):
Allen Moll has been a lifelong NBA and NCAA College Basketball fan who watches and studies games religiously, and coaches youth basketball in his native Lehigh Valley region of Pennsylvania.  Allen also provides content to Bleacherreport.com, Upperdeckblog.com, in addition to being a tenured NBA and NCAA columnist for TheHoopDoctors.com.