February 10, 2011 – Allen Moll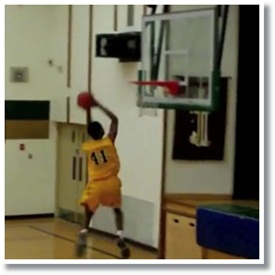 If all Canadian born hoopsters have skills like 14 year old Toronto native Jamar Ergas, the future of basketball in Canada is in great shape. Basketball north of the border first started to receive a lot of attention when Steve Nash parlayed his collegiate success at Santa Clara into arguably a Hall of Fame NBA career, fueled by his back-to-back league MVP awards in '05 and '06.
From there, a number of Canadian born players have gone on to make their mark in the professional ranks like Rick Fox, Jamaal Magliore, and Sam Dalembert. Lately, we have even seen an influx of Division I recruited players that hail from up North, like Syracuse's Kris Joseph and Texas' sensational pair of freshmen Tristian Thompson and Corey Joseph. Next season the Longhorns will be blessed with the presence of yet another outstanding recruit hailing from Canada in Myck Kabongo, who is arguably the top rated point guard in the 2011 HS recruiting class.
Previously on TheHoopDoctors.com, we showed you the outstanding skills of the then 6'6, 195 lb, 13 year old Andrew Wiggins, who was dominating against HS seniors, even though he was still only in Middle School.
Wiggins current Grassroots AAU teammate Jamar Ergas may not have Wiggins' indomitable size but he is making a name for himself with some through the roof athleticism, and in the process drawing more attention to Canadian hoops. Ergas' legend is growing as he has already won a high school dunk contest even though he is still only in the 8th grade. He reportedly has already been measured as having an impressive 39 inch vertical leap and has unbelievably scored 50 points in a game.
Next season, Ergas is following in the footsteps of other top rated Canadian recruits by moving to the States to begin his high school career by enrolling at Christian Faith Center Academy in North Carolina. The move will no doubt make it easier for college coaches and recruiters alike at nearby UNC, Duke, and NC State to check out the talented youngster on a regular basis.
The sky is the limit for this talented hoops phenom, regardless as to where he was born. Check out a recent video of Ergas showing off a plethora of highlight reel dunks, including an amazing 360 jam in live game action……..
Allen Moll has been a lifelong NBA and NCAA College Basketball fan who watches and studies games religiously, and coaches youth basketball in his native Lehigh Valley region of Pennsylvania.  Allen also provides content to Bleacherreport.com, Upperdeckblog.com, in addition to being a tenured NBA and NCAA columnist for TheHoopDoctors.com.