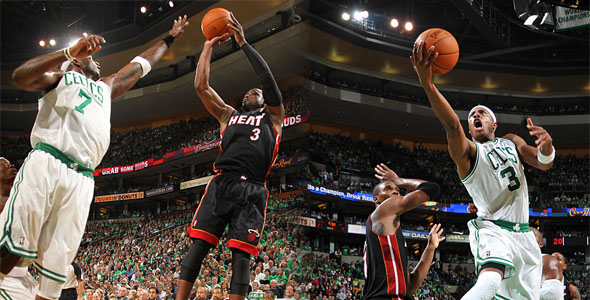 November 8, 2010 – Joshua Sexton
With the 2010-2011 season running at full speed, here are five cant miss games for the week of 11/8/2010, and why I think they are worth tuning in for:
Wednesday, November 10th
Utah Jazz @ Orlando Magic: Fans will be treated to Dwight Howard and Deron Williams, arguably the best point guard and center in the league. Not to mention, getting to see Jerry Sloan and Stan Van Gundy, two of best and most entertaining coaches to watch on the sidelines. I would almost bet one of them will get a technical foul.
Wednesday, November 10th
Los Angeles Clippers @ San Antonio Spurs: On paper, this game does not seem very intriguing. However, I cannot wait to watch Blake Griffin and DeJuan Blair mix it up down in the post. In addition to being a viable option on offense, both players play with an old school reckless abandon. I would hate to be a loose ball both players were fighting for.
Thursday, November 11th
Boston Celtics @ Miami Heat: The Heat will try to avenge an opening night loss to Boston, as they welcome the Celtics to South Beach. It will be interesting to see if Wade, Bosh, and James have built any chemistry since their opening night loss to the Celtics. The game should have a playoff atmosphere from the opening tip.
Thursday, November 11th
Los Angeles Lakers @ Denver Nuggets: The Lakers are off to a blistering start this season and will be looking to win their first game in Denver in two seasons. The Nuggets have been up and down so far this season, trying to figure out if Carmelo is serious about playing for them. This will be a good measuring stick game for Denver.
Friday, November 12th
Portland Trail Blazers @ Oklahoma City Thunder– In the first meeting of the season, Oklahoma City beat Portland in overtime. Portland will be looking to even the season series in Oklahoma City. With the way the first meeting went between these two teams, I could see this match-up turning into a hot rivalry.
Joshua Sexton is a lifelong basketball fanatic, who watches as many games as possible. In addition, He has played and coached the game at the high school level. He has recently started writing about the game of basketball.