November 8, 2010 – THD Rumor Patrol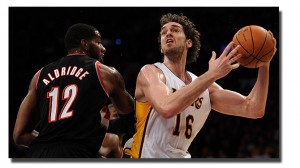 The LA Lakers are hot. Damn hot. They are en route to tying their second best start to any season in franchise history if they can get a win against the Minnesota Timberwolves tomorrow night. And I doubt the Wolves will be much of a problem. The Lakers are only 4 games shy of the franchises' best start.
Can they do it?
Well with the way Pau Gasol and Lamar Odom have been playing I would say it's definitely possible…
Although Pau Gasol was caught a bit by surprise when Steve Blake lobbed a pass off the backboard to him during a 2-on-nobody fast break, the 7-foot Spaniard still snagged it and slammed it home with gusto.
Not much is getting past Gasol or the Los Angeles Lakers—and the two-time defending champions' opponents haven't stood much of a chance during a sublime start to the season.
Gasol clinched his first triple-double since Feb. 17, 2009, with an assist on Ron Artest's basket with 3:10 left in the third quarter. He sheepishly acknowledged knowing how many assists he needed to hit the mark, but effusively praised his teammates for making his feat possible in another formidable win for the streaking champs.
"We've been through so many battles, and we're still growing as a team," Gasol said. "Everybody is growing up together."
The Lakers might keep growing, but it's tough to believe they could play much better. Even coach Phil Jackson couldn't find many nits to pick, directing effusive praise at Gasol and Lamar Odom, who had 21 points and 12 rebounds.
"Lamar Odom, right now, he's an All-Star," Portland coach Nate McMillan echoed.
Read more details via AP on Yahoo.com