November 22, 2010 – Allen Moll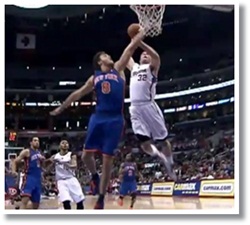 Anyone who has had the pleasure of watching Blake Griffin at Oklahoma two seasons ago knew he was an absolute beast, possessing an amazing amount of athleticism and brute strength that we haven't seen for some time, if ever on the collegiate level. And after sustaining a horrific knee injury forcing the former #1 overall pick to miss all of what was to be his rookie campaign in the NBA last season, no one was really sure just how good Griffin would be considering the severity of the injury so early in his career.
Blake has put any and all doubt to rest after starting the year on a high note averaging 18.5 ppg, a team leading 10.9 rebounds, 2.1 assists, while shooting nearly 50% from the field. Surely Griffin's outstanding play has been the lone bright spot on a Clippers team which has once again disappointed, losing 9 straight to be a league worst 1-13.
But what Griffin pulled off Saturday night against the NY Knicks was both amazing and historic as he tallied a career high 44 points, 7 assists, 15 boards, 2 steals, and 1 block. He also made a career high 16 free throws on 23 attempts for a respectable 70% for the game, which is nearly 20 percentage points higher than his season average of 56%, which to this point appears to be his only weakness. His 44 points rank as the 2nd most points scored by a LA Clippers rookie since  Bob McAdoo's 45 points  in 1973.
Although the Clippers lost the game 115-124, Griffin seemed to take it personally in his first match-up against the player to which he is compared most, Amare Stoudemire. Amare did have 39 points, 11 boards, and 2 blocks of his own, but the night belonged to Griffin who served up not one, but two of the most athletic and posterizing dunks of the season so far.
On the first, Griffin receives a pass from Randy Foye after a perfectly executed pick-and-roll and rises up for the jam against the defending Timofey Mozgov, when he jumps so high that he puts his hand on the side of the 7 foot Russian's face as he finishes off an amazing slam that brings back memories of Dwight Howard's "Superman Dunk" in the '08 Slam Dunk Contest. In addition, the side of Mozgov's face was called for a foul for being inside the restricted area.
On the second, Griffin comes up with the ball at half-court on a breakaway with only the Knicks' Danilo Gallinari defending. Blake pulls off a sweet spin move, making "The Rooster" look a bit over-matched, and displays his amazing athleticism to be able to take off flat-footed for a posterizing one-handed dunk.
Check out Blake Griffin's Two Posterizing Dunks vs the Knicks:
Allen Moll has been a lifelong NBA and NCAA College Basketball fan who watches and studies games religiously, and coaches youth basketball in his native Lehigh Valley region of Pennsylvania.  Allen also provides content to Bleacherreport.com, Upperdeckblog.com, in addition to being a tenured NBA and NCAA columnist for TheHoopDoctors.com.