October 13, 2010 – THD Rumor Patrol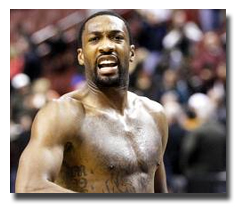 It's one thing after another with Gilbert Arenas. It's been so long since this cat played hoops with any sort of regularity in the league, that he may as well just retire and give the Wiz some financial relief….
For someone looking to get back into the good graces of his team, its fans and the NBA, Gilbert Arenas has a funny way of showing it.
The Washington Wizards guard's latest escapade took place Tuesday, when coach Flip Saunders announced before a preseason game against the Atlanta Hawks that Arenas would miss the contest with a sore left knee.
But Arenas revealed after the Wizards' 107-92 victory that he pretended to have a bum knee to give teammate Nick Young a chance to start. He told reporters Wednesday that he was trying to do Young a favor.
"I lied to coach and told him my knee was sore so he'd start Nick," Arenas said.
Arenas was fined an undisclosed amount by the Wizards for his deception. It was another blow to the image of a player who is still trying to recover from his 50-game suspension and felony conviction for bringing guns into the locker room last season.
After Wednesday's practice, Arenas first said he wasn't talking, then appeared before reporters offering a halfhearted apology for his actions.
"I screwed up again, so I just want to say sorry," he said. "I wasn't really thinking that this was going to be another media outburst. It's like everything I do now, someone, tit for tat, tries to blow it out of proportion."
Arenas' altruistic gesture might have gone over a little better if Arenas didn't lie to his coach, or if he hadn't already ruffled feathers this preseason with his moody press conference at the team's media day or his statements that he would "move on" after helping No. 1 pick John Wall learn the ropes.
Read more details via AP on NYTimes.com