October 14, 2010 – Allen Moll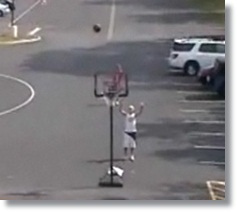 It must be tough nowadays finding new and innovative ways to put out a trick shot video. I mean, not everyone can channel Dude Perfect and sink a basketball off the 3rd level of a football stadium or have the precise skill of David Kalb bouncing a ball off of a rooftop and through two rims.
Depending on the season, you could always take the alternative route. In Summer, you could always take up the art of pooldunking, or better yet in colder climates, get out your winter parkas and knit hats and have yourself a snowboard dunk contest.
Conversely, maybe you could go the toughest route by enlisting the help of a celebrity to help bring star power to your trick shots just like Georgia player Connor Nolte, who got some help from a cameo of NBA Hall of Famer Charles Barkley to finish off his indoor video compilation.
While those ideas are thoroughly entertaining, maybe you can intertwine your favorite hobby like golf into your video like this guy, who pulls off the ultimate hole-in-one, using the old roundball:

Hole In One Golf Trick Basketball Shot – Watch more Sports
Allen Moll has been a lifelong NBA and NCAA College Basketball fan who watches and studies games religiously, and coaches youth basketball in his native Lehigh Valley region of Pennsylvania.  Allen also provides content to Bleacherreport.com, Upperdeckblog.com, in addition to being a tenured NBA and NCAA columnist for TheHoopDoctors.com.