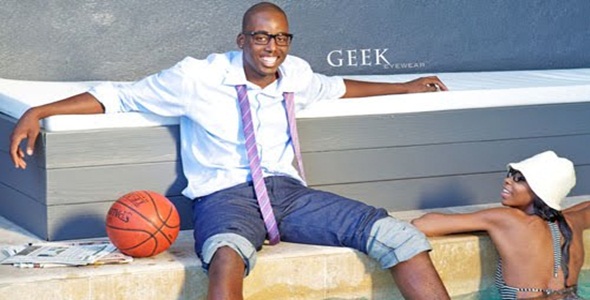 October 6, 2010 – Allen Moll
While all of us were giggling when former Wake Forest stand-out Al Farouq-Aminu walked up the stage during the 2010 NBA Draft to meet NBA Commissioner David Stern wearing those ridiculous Steve Erkel glasses, Aminu is laughing all the way to the bank, since he reportedly has signed an endorsement deal with European glassmaker Geek Eyewear.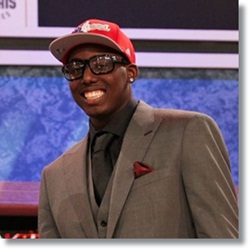 Many have speculated that since Aminu decided to sport glasses made by the Los Angeles based lens maker at the Draft, that he had some prior knowledge that he would be selected by an LA team leading up to being selected on June 24th.  Talk about a conspiracy theory.
Geek Eyewear is apparently a rising international fashion trend since it has been reported on their Facebook page that Hollywood actor Nicolas Cage has ordered more than 15 pairs, and will wear them in his upcoming films. Hip-hop/R&B star Chris Brown has also been known to have sported Geek lenses in his music videos.
Al Farouq was a man amongst boys during his sophomore campaign at Wake Forest, averaging 15.8 ppg, 10.7 rebs, and 1.4 blocks in helping to lead the Demon Deacons to a 20-11 overall record as they advanced into the 2nd Round of the NCAA Tournament.
Aminu, the #8 overall pick in the 2010 Draft, figures to vie for time in the LA Clippers front-court alongside '09 #1 pick Blake Griffin, Ryan Gomes, Craig Smith, Brian Cook, and former Vermont stand-out and NCAA Dunk Contest winner Marqus Blakely.
Check out Al Farouq-Aminu's highlight reel from his 2 years at Wake Forest:
Allen Moll has been a lifelong NBA and NCAA College Basketball fan who watches and studies games religiously, and coaches youth basketball in his native Lehigh Valley region of Pennsylvania.  Allen also provides content to Bleacherreport.com, Upperdeckblog.com, in addition to being a tenured NBA and NCAA columnist for TheHoopDoctors.com.