September 8, 2010 – THD Rumor Patrol
Well Team USA probably just let out a small sigh of relief as their road to a World Championship just got a bit easier. Serbia is no slouch but no one left in the tournament will be sad to see the defending World Champions, Spain, get booted from the FIBA tournament in Turkey…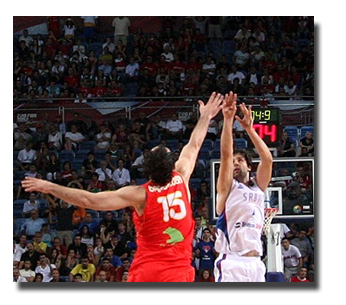 Serbia knocked defending champ Spain out of the world championship Wednesday when Milos Teodosic made a long 3-pointer with 3.1 seconds left for a 92-89 quarterfinal victory.
Spain erased an eight-point deficit in the final 4 minutes to tie it on Marc Gasol's(notes) basket with 25 seconds remaining. After a timeout, Serbia patiently ran its offense until Teodosic—1 of 7 on 3-pointers at that point—pulled up from straightaway, well beyond the arc.
"He's a great player and he has a great feeling for the big shot," Spain coach Sergio Scariolo said.
The Spaniards couldn't get a final shot off, with Jorge Garbajosa(notes) losing the ball after a timeout. Serbia's players celebrated at midcourt as Spain's Sergio Llull(notes) kicked the ball deep into the stands.
"I think it was a very, very tough game. Maybe the best one until now in Istanbul," Serbia coach Dusan Ivkovic said.
Avenging a loss in last year's European championship game, Serbia advanced to face Turkey or Slovenia in a semifinal game Saturday.
"It's very difficult to forget this kind of game, but we have to try to forget everything that happened tonight because in two days we will play in the semifinals," Teodosic said.
Marko Keselj and Novica Velickovic scored 17 points apiece for Serbia, while Dusko Savanovic added 15. The Serbians were 15 of 30 from 3-point range, exploiting the zone seemingly every time Spain used it.
"We were not able to stop them on the long shots," Spain guard Juan Carlos Navarro(notes) said. "That's why we lost and I believe that's why they deserved to win."
Navarro scored 27 points and Garbajosa, the former Toronto Raptors forward who recovered from a severe leg injury, added 18.
Read more via Yahoo! Sports