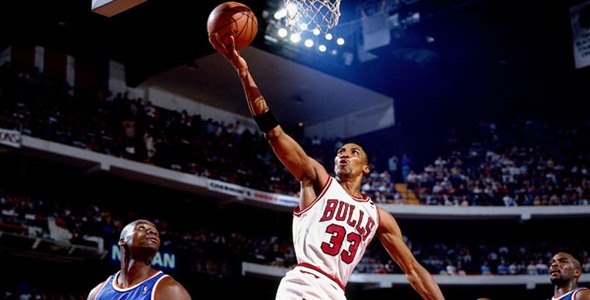 September 9, 2010 – Allen Moll
With the Naismith Basketball Hall of Fame recently inducting former Chicago Bulls great Scottie Pippen into their hallowed halls of greatness, what better time to give one of the NBA's Top 50 Players of All Time his very own multi-part, weekly Player Rewind Series. Scottie was the antithesis of the 5 tool player with supreme abilities to handle the rock, score when needed, or play lock-down defense on virtually any player on the floor. Although he will forever be labeled a "sidekick" to the great Michael Jordan in their magnificent run in winning 6 NBA Titles, Scottie was undoubtedly a great man on and off the court from his humble beginnings in Hamburg, Arkansas to Olympic Gold Medalist, and eventually as a standard of greatness that many players of today's game continue to strive for. Hopefully this series will serve to educate the youngsters about one of the greatest defensive players ever, while at the same time helping to reminisce on just how spectacular a player the man know as "Pip" really was.
Part 3 – The Dunks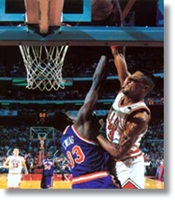 While most fans remember "Pip" for his amazing all around game, one skill that went under the radar and was a truly underrated aspect to his game was his thunderous dunking ability. Maybe it was because he played alongside perhaps the greatest high flyer to ever play the game(MJ), or just that Scottie was a tad taller and longer than Jordan, making his dunks appear less spectacular than that of "Air Jordan." But if you were an opposing player during the 90's and early 00's, many would just clear the lane on a Scottie Pippen drive to the basket, in fear of being jammed on or being victimized on his latest poster dunk.
Thanks to some amazingly long arms, Scottie was known for his scintillating one-handed jams, most of which, of the in your face variety. Probably his most famous facial came at the expense of fellow HOF'er Patrick Ewing of the NY Knicks, during Game 6 of the '94 Eastern Semi-Finals. Watch as he jams in Ewings face, stands over him as a punctuation mark, and even points and taunts Spike Lee sitting courtside.
This dunk usually ranks in the Top 10 of everyone's best all-time Playoff dunks:
Check out Scottie's amazing "Free Throw Line Dunk" in the 1990 NBA Dunk Contest, where he unbelievably did not receive a perfect score even though his foot was clearly behind the line at take-off. In Jordan's now famous Free Throw Line Dunk, he received a perfect "50" even though he was over the line by about a foot. Just sayin…….
Even the "Mailman", Karl Malone wasn't immune to being posterized by Pippen in '97:
Check out a video of Scottie Pippen's Top 10 All Time Dunks:
Allen Moll has been a lifelong NBA and NCAA College Basketball fan who watches and studies games religiously, and coaches youth basketball in his native Lehigh Valley region of Pennsylvania.  Allen also provides content to Bleacherreport.com, Upperdeckblog.com, in addition to being a tenured NBA and NCAA columnist for TheHoopDoctors.com.