September 2, 2010 – THD Rumor Patrol
Looks like Carmelo Anthony won't be going anywhere, well at least for this season anyways…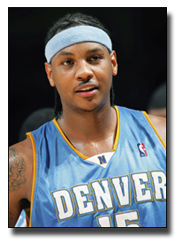 They've already had one press conference in Denver this week, but that will almost certainly be the only one.
The Nuggets and new vice president of basketball operations Masai Ujiri, just introduced Tuesday to the local media, are not close to announcing a Carmelo Anthony trade.
Sorry to disappoint again: Anthony isn't even on the market.
Not yet, anyway.
That status could certainly change before NBA teams open training camps later this month, should Ujiri prove unsuccessful in his forthcoming attempt(s) to convince Anthony to sign the three-year, $65 million contract extension that the Nuggets, right around the June draft, believed Melo was on the verge of accepting.
The current reality, however, is that Melo is not in play for trade pitches.
The Nuggets can do nothing to prevent the future of Anthony – along with Chris Paul and Deron Williams ("I have a feeling he's next for all these trade stories," one Western Conference team official said of D-Will) – from becoming the new season's sidebar obsession to the actual basketball. But they can tell teams that call about Anthony that they're not ready to discuss potential Melo trade scenarios.
They can and they have said that already.
Read the full story via ESPN