September 4, 2010 – THD Rumor Patrol
Someone remind us why Juan Carlos Navarro is not in the league anymore? The cat can flat at score with the best in the world….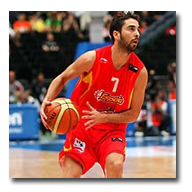 Juan Carlos Navarro scored 22 points for Spain in an 80-72 victory that eliminated Greece from the basketball World Championships on Saturday.
The Spaniards made 8 of 18 3-pointers and used a 13-3 run in the fourth quarter to push ahead during the game in the round of 16. Greece closed within 72-68 on Vasileios Spanoulis' layup with 1:01 left in the game, but Ricky Rubio answered with two free throws. Rudy Fernandez of the Portland Trailblazers scored 14 for Spain.
Dimitrios Dimantidis and Nikolaos Zisis each had 16 points for the Greeks, which has lost to Spain seven straight times. Sofoklis Schortsanitis added 13 points.
Read more great NBA content via NBA.com