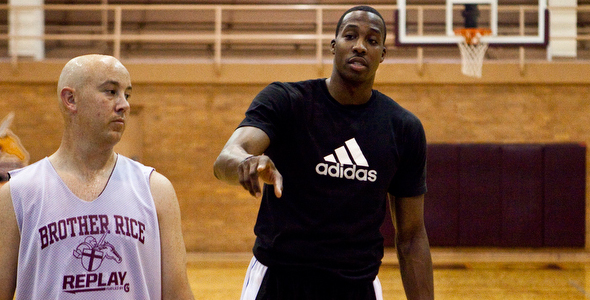 September 14, 2010 – Kevin Burke
Back for it's 3rd season, the award-winning Gatorade REPLAY stages re-matches of classic games between some the nation's best high school sports teams and gives former teammates the chance to prove once you're an athlete, you're always an athlete. This year, it reunited two South Side Chicago high school basketball powerhouses, Bloom Township and Brother Rice, whose 2000 super sectional game ended after a questionable last second tip in at the buzzer.
This past Saturday, the two teams played the re-match game and the head coach of Brother Rice was Dwight Howard, while Dwyane Wade coached Bloom. The Hoop Doctors were at the game and had the chance to catch up with Dwight shortly before tip-off.
Dwight Howard: (In his Charles Barkley voice) Hey Kevin, this is Charles Barkley.  Man, I tell you. Gatorade REPLAY is going to be a good game. I can't wait for the game to start. This is incredible.
Kevin Burke: (Laughing) Can you give me your Stan Van Gundy impersonation too?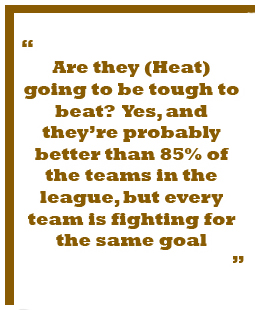 Dwight Howard: (In his Stan Van Gundy voice) No, Dwight! No. Don't do that, Dwight. No!
Kevin Burke: (Gaining composure) That's classic. Dwight, Kevin from The Hoop Doctors here. Like you just mentioned, the Gatorade REPLAY game will be tipping off shortly. What do you think of the concept of the game?
Dwight Howard: The concept is unbelievable. It's giving these two teams the opportunity to relive a moment in their life and give them a second chance really. In life, I wish I had a second chance at a few things. A lot of these guys haven't worked out since high school. That's why the training regiment that the Gatorade Sports Science team put together for them is so important. The game is going to be a lot of fun and we're going to win.
Kevin Burke: Wow, very confident, huh? What one game do you wish you could replay?
Dwight Howard: I would have to go back to high school, man. There was a nationally televised game on ESPN when I was still at Southwest Atlanta Christian Academy. I was called for a foul late in the game that ended up determining the outcome, where we lost. I didn't necessarily think I fouled the guy. A few years later, I saw that ref again and he said that he went back and watched the tape and saw that I didn't foul the guy. He apologized, but I was like "aww man".
Kevin Burke: What did you do to get your team ready for this Gatorade REPLAY game?
Dwight Howard: I would go to the gym and train hard with those guys. This is a big game. And one of the guys on my team is the cousin of Q-Rich (Quentin Richardson). Look out for him.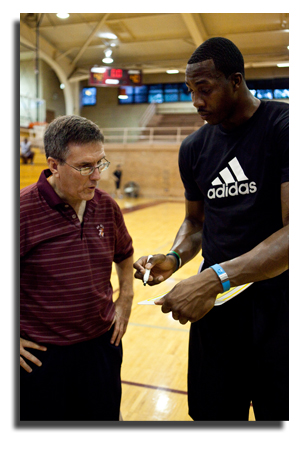 Kevin Burke: Dwight, moving to your team, the Orlando Magic. A bunch of teams made moves this year but your team didn't really make any big splashes. Would you have liked to have seen a hole filled, or are you fine with the team?
Dwight Howard: I think our team is fine how it is.  We don't need much. We're right there every year. It's really the little pieces that make the engine go. What it's really going to come down to is my leadership and how well me and Jameer (Nelson) work together. But I have to be the leader of the team in order to get us over the hump.
Kevin Burke: As you're well aware, the Miami Heat did a lot this summer and many people – not all – but many are already crowning them champs of the East. Do you guys feel disrespected because you guys have been one the best teams in the East for years?
Dwight Howard: I think every team is disrespected to a degree. You still have to go out and play, that's the beauty about all of this. Are they going to be tough to beat? Yes, and they're probably better than 85% of the teams in the league, but every team is fighting for the same goal and we all have to lace them up to find out who is the best.
Kevin Burke: Actually, one of the people who crowned the Heat was Jeff Van Gundy, your head coach's brother – saying that they could top the 72-10 record that the Bulls had.  Did you get on Stan at all about what his brother said?
Dwight Howard: Yeah, I did.
Kevin Burke: What did you say?
Dwight Howard: I told him that he was dead wrong and we both agreed that it puts more pressure on the Heat to win.
Kevin Burke: Who do you want to meet in the Eastern Conference Finals to prove that you guys are still a very good team?
Dwight Howard: It doesn't matter. I just want to get back there and win. It doesn't matter who we play.
Kevin Burke: Last question, Dwight. Are the Orlando Magic the best team in the East?
Dwight Howard: Yes.
Kevin Burke: That's what I like to hear. Before I let you go, can I get your Barkley one more time?
Dwight Howard: (In his Barkley voice again) The Gatorade REPLAY game is going to be great. I can't wait. I'm a D-Wade fan. LeBron went to join D-Wade. We'll see what happens."
Kevin Burke: (Gaining composure once again) Thanks, Dwight. Best of luck in the game.
Dwight Howard: Thanks, man. Take care.
If you're looking for your everyday, predictable basketball talk, then go somewhere else, because Kevin Burke of The Kevin Burke Project brings provocative, thought provoking content about basketball as only he can. Kevin also hosts The Hoop Doctors weekly podcast show, which you can subscribe to for free on iTunes. Follow Kevin on Twitter and Facebook