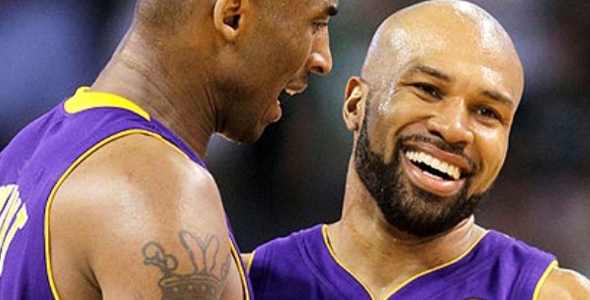 September 13, 2010 – R.S. De France
With Scottie Pippen entering the Hall of Fame (HOF), it has made a lot of us wonder why it took so long for the Chicago Bulls organization to honor him with his own statue.  For the defensive-minded forward who joined Michael Jordan for all 6 of his NBA titles, Pippen has always seemed like a lock for the HOF.  It also makes me wonder about other possible future Hall of Fame players.  I so have the feeling that this is gonna turn into a series of articles.
Over the past few seasons, basketball writers have discussed ad nauseum who rightfully "owns" the Lakers' 2000-2002 three-peat Shaq or Kobe? Above all other arguments, it seems apparent that no great player truly wins any titles by him (or her)-self.  Even Kobe Bryant and Shaquille O'Neal needed each other to win those titles against those teams.  Every dynasty not only has a great player to back up their leader, but these great teams frequently feature a third or fourth option.  And, historically, the HOF has made room for these 3rd and even 4th option players (in bold below).
The 1991-1998 Chicago Bull's Michael Jordan had Scottie Pippen and either Dennis Rodman or Horace Grant.  6 championships.
The 1989-1990 Detroit Pistons' Isiah Thomas had Joe Dumars and Dennis Rodman and Bill Laimbeer.  2 championships.
The 1980-1988 Los Angeles Lakers' Magic Johnson had Kareem Abdul-Jabbar—or the other way around—
and James Worthy.  5 championships.
The 1981-1986 Boston Celtics' Larry Bird had Kevin McHale and Robert Parish and Dennis Johnson.  3 championships.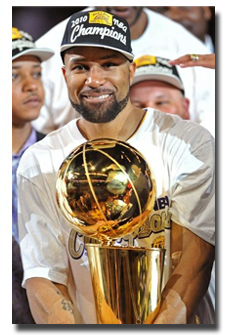 The 1957-1969 Boston Celtics' Bill Russell had Bob Cousy and Tommy Heinsohn, Frank Ramsey, and K.C. Jones, etc.  11 championships.
Even the 1948-1954 Minneapolis Lakers' George Mikan had Jim Pollard and Vern Mikkelsen.  5 championships (3 NBA, 1 NBL, and 1 BAA).
During the last decade or so,
The 1999-present San Antonio Spurs' Tim Duncan has had Tony Parker and Manu Ginobili.  4 championships.
The 2000-2004 Los Angeles Lakers' Shaquille O'Neal had Kobe Bryant and Derek Fisher.  3 championships.
Over the last couple seasons (2009-present), Bryant has had Pau Gasol and Fisher, and added 2 more championships, giving Bryant and Fisher 5.
Now, if Manu Ginobili makes it in the HOF, as some predict he will, why not Fisher?
As Los Angeles Lakers' point guard Derek Fisher prepares to defend back-to-back titles for the second time in his career, it is a fitting time to discuss Fisher's case for making the Basketball Hall of Fame.
When you think of the Hall of Fame, you may—as I do—tend to think of the greats of the game like Kareem, Wilt, Russell, Magic, and Jordan (and soon enough Bryant).  Who you may not think about are players like Bob Houbregs, Slater Martin, and Clyde Lovellette (all in the HOF).
The case against Los Angeles Lakers' starting point guard Derek Fisher making the HOF is as easy as it is solid.
Fisher's career points, as well as assists, are nowhere near most other HOF players.  Fisher is not in the top 300 all-time in scoring, as most HOF players are.  He is close enough to Clyde Lovellette, 211th, with Dave Cowens, Dave DeBusschere, Jerry Lucas, and Billy Cunningham not far ahead of that.  And, by the time he retires, Fisher could approach these players in all-time scoring.
Fisher has never been elected to a single All-star game
Fisher has no individual awards or honors in NBA basketball
He was not the driving force behind the Lakers' championships of the 2000's
But, before we close the case for Fisher in the HOF, let's take a look at several HOF players with similar resumes to D-Fish.
| | |
| --- | --- |
| Name | Frank Ramsey "The Kentucky Colonel" |
| Championships | 7 |
| Seasons and Team | 1955-1964, Boston Celtics |
| Playoffs | 13.6 ppg (1,331 points) in 98 games |
| Career | 13.4 ppg |
| Role | Back-up to Bill Sharman and Bob Cousy |
| Date Inducted | 1992 |
Ramsey was one of the many Hall of Fame clogs to the Celtics' first NBA dynasty.
| | |
| --- | --- |
| Name | Robert "Bobby" Wanzer |
| Championships | 1 |
| Seasons and Team | 1949-1957, Rochester Royals |
| Playoffs | 14.6 ppg (554 points) in 38 games |
| Career | 12.2 ppg and 3.2 apg |
| Role | A multidimensional player, Wanzer and Bob Davies formed an elite backcourt |
| Date Inducted | 1987 |
Wanzer and Davies led the Royals to the 1951 title and the duo was often compared to another Hall of Fame backcourt, Cousy and Sharman.
| | |
| --- | --- |
| Name | Slater Martin "Dugie" |
| Championships | 5 (4 with Minneapolis Lakers and 1 with St. Louis Hawks) |
| Seasons and Teams | 1950-1960, Minneapolis Lakers and St. Louis Hawks |
| Playoffs | 10.0 ppg (924 points) in 92 games |
| Career | 9.8 ppg and 4.2 apg |
| Role | Martin was one of the first modern point guards who helped his HOF studded Lakers jell |
| Date Inducted | 1982 |
Known for his playmaking ability, Martin was an effective point guard who played along side Mikan, Pollard, and Mikkelsen in Minneapolis.  However, when his teams won the title, Martin was more of a pieces player as those were not his best seasons, individually.
| | |
| --- | --- |
| Name | K.C. Jones |
| Championships | 8 |
| Seasons and Team | 1959-1967, Boston Celtics |
| Playoffs | 6.4 ppg (668 points) in 105 games |
| Career | 7.4 ppg and 4.3 apg |
| Role | A bench and pieces player |
| Date Inducted | 1989 |
Although K.C. Jones was on board for 8 of the Celtics 11 titles during that era, he was never depended upon too much, never even averaging 10.0 ppg in a single season.  Nonetheless, dynasties need players like this to hustle and make plays.
| | |
| --- | --- |
| Name | Clyde Lovellette |
| Championships | 3 |
| Seasons and Teams | 1954-1964 for MN Lakers and Boston Celtics |
| Playoffs | 14.0 ppg (963 points) and 8.1 rpg in 69 games |
| Career | 17 ppg and 9.5 rpg |
| Role | He played a serviceable back-up role during the title runs |
| Date Inducted | 1988 |
Although Lovellette was a talented scorer, 1954, 1963, and 1964 (his 3 titles) were horrific years for him, individually.  His points per game in his championship seasons went from 8.2 ppg (in '54) to 6.5 ('63) to 6.7 ppg (in '64).  Also, his health declined in his later years, causing him to miss 11 and 27 games in his final two seasons, respectively.  This was back when teams only played 72 games, so missing 27 was even more significant.
| | |
| --- | --- |
| Name | Bill Walton |
| Titles | 2 |
| Seasons and Teams | 1975-1987, Portland Trailblazers and Boston Celtics |
| Playoffs | 10.8 ppg (528 points) and 9.1 rpg in 49 games |
| Career | 13.3 ppg, 10.5 rpg, and 2.2 bpg |
| Role | After his injuries, Walton went from being an MVP-type leader in Portland to a bench player filling a valuable role in Boston |
| Date Inducted | 1993 |
Winner of the 1978 MVP award and the 6th Man Award in 1986, Bill Walton had a promising start to his career, but a series of foot and ankle injuries prevented him from playing more than about 3 seasons at such a high level.
So, how does Fisher measure up to these Hall of Fame players?
| | |
| --- | --- |
| Name | Derek Fisher |
| Championships | 5 |
| Seasons and Teams | 1996-present, Los Angeles Lakers, Golden State Warriors, and Utah Jazz |
| Playoffs | 8.9 ppg (1,770 points), 2.6 apg, and 40.1% three-pointers in 199 games |
| Career | 9.0 ppg, 3.2 apg, and 1.1 spg |
| Role | Starting point guard and often the 3rd leading scorer |
| Date Inducted | N/A |
In addition to his effectiveness and clutch-shot-making on championship teams, Fisher is also a very durable player, playing all 82 games in each of the last 5 seasons (8 times in his career).
Historically, I would compare Derek Fisher to a Ramsey, Martin or Jones, all of whom were crucial pieces to their championship dynasties, but not the dominant forces like a Russell, Magic, Jordan, or Bryant.
I do not point any of this out to suggest that anyone who is in the Hall of Fame does not deserve it—I'm sure they do.  I'm just arguing:  'if they are in the HOF, then why not Derek Fisher, too?'
Fisher by the Numbers
What distinguishes Fisher from most other players is his body of work in the playoffs.
5th in playoff games (199) behind only Robert Horry, Jabbar, O'Neal, and Pippen.
6th in playoff three-point goals (224) behind only Reggie Miller, Bryant (263), Horry, Chauncey Billups, and Ray Allen.
17th in playoff steals (221), ahead of Payton, Cooper, Worthy, Dumars, Cowens, and Havlicek.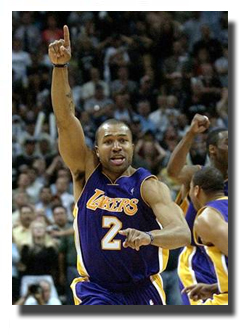 34th in playoff three-point percentage (40.1%).
Tied for 40th in playoff assists (513) with Derek Harper, which puts Fisher above Dumars, Worthy, Ginobili, Paul Pierce, K.C. Jones, Lenny Wilkins, Bill Sharman and Dave DeBusschere.  Aside from active players, all of these players are in the HOF.
56th all-time in 3's made (1,032), ahead of Bird, Jordan, Pippen, Stockton, Clyde Drexler, Chris Mullin, and Robert Horry.
57th in playoff steals per game (1.11), more than M. Jackson, Parish, O'Neal and Bruce Bowen.
67th in playoff points (1,770), putting him just ahead of Dumars, Cowens, and Mikan.
81st games played (1,028), more than McHale, Sam Jones, Cousy, Worthy, West, Dumars, David Robinson, Mullin, and Russell.
96th all-time in steals (1113) above Rick Barry, Moses Malone, Worthy, Cooper, Gervin, Adrian Dantley, and Dumars.
103rd in three-point percentage (37.3%), which is higher than Paul Pierce, Chuck Person, Horry, Bryant, Kidd, John Starks, and Fisher is about 10 spots behind Bird.
121st in playoff free-throw percentage (79.2%), which is still higher than LeBron James, Kevin Garnett, Jason Kidd, Drexler, Kareem, and Allen Iverson.
121st in regular season free-throw percentage (81.5%), putting Fisher above Jerry West, Paul Arizin, Gail Goodrich, Ramsey, Sam Jones, Cousy, Hal Greer, Drexler, and Walt Frazier.
140th in assists (3,246), ahead of Cowens, K.C. Jones, Jerry Lucas, Billy Cunningham, "Dr. J" Julius Erving, Hakeem Olajuwon, and O'Neal.
173rd in minutes played with (26, 912), more than George Gervin, Arizin, Pete Maravich, Sam Jones.
As Fisher is still currently playing, all of these rankings and numbers will continue to improve.  We may have to revisit this issue after he retires.  But, if these numbers indicate anything, it is that Fisher belongs in the Hall of Fame.
Fisher Memories
As a life-long Laker fan, what I'll never forget are Fisher's great moments of grit, confidence, and courage in the playoffs and finals.
2004
The .04 Shot.  One of Fisher's most memorable shots came during Game 5 of the Western Conference Finals against the San Antonio Spurs, who were at the time the defending champions (2003).  In this hotly contested game, the lead swung back and forth, even into the final moments.  On the attack and down by one, Kobe Bryant nailed a clutch 17-footer.  On the ensuing possession, Tim Duncan gets the call for an isolation play at the top of the key.  In dramatic fashion and with Shaquille O'Neal in his grill, Duncan buried a 21-foot jumper while falling down, giving the Spurs back the lead.
After a season in which he was demoted back to the bench to make room for newly acquired future Hall of Fame point guard Gary Payton, Derek Fisher was the hero for 0.4 seconds that will last a lifetime.  Payton in-bounded it to Fisher, who turned, squared up, and fired in seemingly one fluid motion, and drilled a mid-range jumper to seal the victory and ultimately the series.  Fisher's 0.4 shot gave the Lakers a decisive 3-2 series lead against a difficult opponent.
http://www.youtube.com/watch?v=Mav2iBA1cwo
2009
2 Clutch Three's. In the 2009 NBA Finals against the Orlando Magic, Derek Fisher's two clutch three's, one late in the 4th quarter, and the other in over-time helped secure the Lakers a win in game 4 and a 3-1 series advantage.  If the Lakers had lost this game, after going to over-time in game 2 and losing game 3, the Lakers would have been stuck in a 2-2 battle for the title.  Instead, Fisher drilled both three's, which helped the Lakers gain momentum for their eventual 4-1 victory in the '09 Finals.
2010
A Quarter to Remember. After losing the 2008 Finals, which included a blowout 39-point loss in Boston in game 6, the Lakers were tense returning to Boston for game 3 of the 2010 Finals.  Their emotions ran high.  Ray Allen had put on a historic three-point performance in game 2, carrying his Celtics to the win, and a 1-1 series tie.  If the Lakers had lost this game 3, they would have been down 2-1 in the series.  In the 4th quarter of game 3 in the 2010 NBA Finals, Fisher put the Lakers on his back (scoring 11 of his 16 points) and willed the team to victory and a 2-1 series advantage.  This was likely the best and most important playoff quarter of Fisher's career.
http://www.youtube.com/watch?v=PqMg6qDEj9A
Closing Argument for Fisher
Even though Derek Fisher will not go down among the greatest NBA scorers of all-time, that should not rule him out of HOF contention, either.  In his 14-year career, Fisher already has scored more career points (9,205) than Hall of Fame players Slater Martin, Robert Wanzer, Robert Houbregs, and Frank Ramsey.  And since Fisher has scored almost as many points as Bill Walton and K.C. Jones combined, it seems unfair to deny him the Hall of Fame merely based on career points.
Although Fisher never made an All-star game, he did have some fearsome competition, playing against some of the greatest point guards of all-time in Gary Payton, Jason Kidd, Tony Parker, Steve Nash and John Stockton.  Maybe Chauncey Billups and Chris Paul deserve to be mentioned here as well, but Rajon Rondo and Mark Jackson played in the Eastern Conference during Fisher's career, which of course has had no effect on Fisher making all-star games in the west.  To his credit, Fisher was selected as a member of the 1997 Schick Rookie Game, in which he scored 16 points and distributed 6 assists.  While Fisher may not have any MVP or ROY awards, he was awarded the NBA Community Assist Award in 2005, and he has also been the President of the NBA Players Association since 2006.
Fisher was the starting point guard on the 2001 Lakers as they set the all-time mark of 15-1 during the playoffs and finals.
Think about those great dynasties.  Sure, there was Worthy, the exception to the rule, who had a triple-double in a winning effort in a Finals' game 7 for which he also won the 1988 Finals' MVP.  Other than that, the Hall of Fame-type 3rd options are pieces players like Mikkelson, Worthy, Heinsohn, Parish, Grant or Fisher.  Instead of leading the team, they usually are a perfect compliment to the leading scorers by providing other intangibles.
Basketball Reference has a page on-line where they rank the odds of current NBA players making the HOF.  Currently, Basketball Reference gives Fisher a .03% of making the HOF.
Sure, that may be realistic considering Fisher might not make any "100 Greatest Players" lists, but I think that's low-balling him.  Fisher deserves to be in the Hall of Fame.
Fisher does have 5 NBA titles, tying him for 14th all-time with Kobe, Magic, Michael Cooper, Slater Martin, Don Nelson, and Rodman.  And all but Rodman is in the HOF.  That also gives Fisher more titles than Shaq, Duncan, Grant, Worthy, and Bird.
Now, we all know Fisher is no Bird, but Fisher ran the point and was a reliable 3rd scoring option for Bryant, Shaq, and Gasol's Lakers en route to 5 titles and 7 NBA finals appearances.
For Fisher's accomplishments and his character, I hope he gets call from the Hall.
Appendix
More on Bill Russell's Celtics:
Sure, it could definitely be argued that Tommy Heinsohn was the number 1 offensive option on many of those great teams.  But, I was coming from the position that Russell owned the defense, a defense so potent it ignited the offense.  And, Bob Cousy was the incredibly talented point guard who ran the offense, many times distributing the ball to players like Heinsohn.
More clutch plays from Fisher:
http://www.youtube.com/watch?v=77VhxVHpO5k
Most Playoff Games Possible to Win the NBA Title
1949-1951                 13-15
1951-1961                  (minor changes)
1961-1970                 15-21
1970-1975                 21
1975-1984                 24
1984-2003                26
2003-present            28
Sources
Basketball Reference
The Naismith Memorial Basketball Hall of Fame
Best NBA Odds (bestnbaodds.com)
National Basketball Association (NBA.com)
R.S. De France is a College and University instructor of English Composition living in Los Angeles. He has a B.A. in English and an M.A. in Rhetoric, Composition, and Writing. De France has played, coached, and officiated competitive high school basketball in California for many years. Recently, De France, his wife, and another colleague started an internationally read magazine at Shwibly.com.