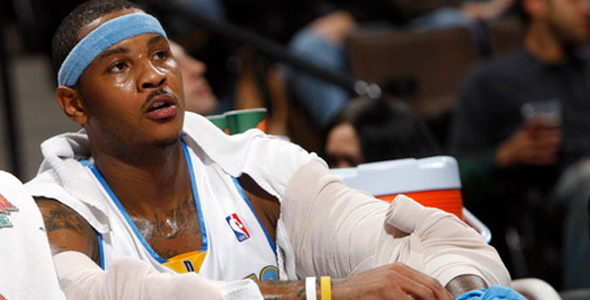 August 27, 2010 – Dr. Browntorious
Adrian Wojnarowski of Yahoo! Sports last night had an update on the Carmelo Anthony/Denver Nuggets contract extension talks that you will want to read. Apparently Anthony's reps World Wide Wes and Leon Rose are trying to strong are the Nuggets into a sign and trade, and they have given demands on specific teams to try and work with. So much for professionalism and etiquette in contract negotiations…
Carmelo Anthony(notes) wants out of Denver, and Worldwide Wes delivered that message to the Nuggets with all the delicacy of a jackhammer at Sunday morning services. Do yourself a favor and trade him, the agent told the organization weeks ago.

Denver was furnished with a short list of teams and told to get to work. Yes, this is how William Wesley and Leon Rose of CAA work now, thick with threats and ultimatums and a swagger suggesting that the sport belongs to them. After Anthony told owner-in-waiting Josh Kroenke that he still wanted out of Denver during a Sunday meeting, the Nuggets appear done trying to sell their All-Star forward on a contract extension.

This wasn't a productive, nor particularly pleasant, meeting and multiple sources said it could turn out to be the point of no return for Anthony and the organization. Sources insist it's no longer a matter of if the Nuggets trade Anthony, but when, where and for whom he's traded for.
So, if the Yahoo! sources are valid, then it is likely that Carmelo Anthony might get his wish to be traded before the season even begins. It is highly likely that given recent events with J.R. Smith and the rumors he will be moved that a package deal could be worked out. Another possibility is even two or three separate trades involving Anthony, Smith, and possibly Kenyon Martin to try and rebuild the Nuggets line-up virtually from scratch.