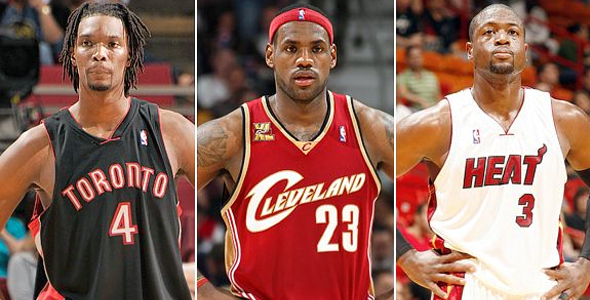 July 29, 2010 – R.S. De France
The newly formed 2011 Miami Heat has drawn praise and criticism from around the league, taking attention away from the narratives of other teams, like the defending champion Los Angeles Lakers, who are looking for a second three-peat in ten years.
No matter how you feel about the Heat (I like them and think they will do quite well), I think most people would agree with me:  LeBron James needs to shut up and win (a title)…Then, he can keep talking like we all know he will.
After how "well" the "decision" went, it seems James has not finished "talking."  (Sorry, using excessive air-quotes makes me feel like Dan Gilbert).
I have been anticipating the NBA season more than ever since the announcement of Miami Heat's 'big three' or three amigos, the three kings, or whatever you want to call them.
2011.  The Los Angeles Lakers' quest for a second three-peat in the span of Kobe Bryant, Derek Fisher, and Phil Jackson's reign in L.A.  One more push for Boston's aging all-stars, the "Big Three" of Kevin Garnett, Ray Allen, and Paul Pierce to add a second title.  Will there be a newcomer to the mix in the form of the Dallas Mavericks or the Orlando Magic?  How much better will the New York Knicks and Chicago Bulls be?…And, of course, the most compelling story will be how Miami's "Three Kings" come together and blend as a team—with Phil Jackson's quest for a 12th title and Fisher and Bryant's quest for a 6th coming in at a close second.
Most importantly, I look forward to laughing heavily when I think back about LeBron James' comments at the Miami Heat Summer of 2010 Welcome Event:
http://www.youtube.com/watch?v=cA-slCPeh3o
…Not five, not six, not seven…  James basically promised 0 or 8 NBA titles.  So far, he has zero, and there's no way he's getting eight, so I'm leaning somewhere towards the middle.
James is mostly right:  the Heat will not win seven, or six, or five titles.  That is a little too unrealistic.  It still seems that James would be better off just keeping his mouth shut.  As if they did not already have a bull's eye on them after this summer, the more the Heat talk, the more other teams will want to shut them up.  Many are starting to feel like Rajon Rondo, who came right out and said the obvious—the Heat hasn't done anything yet.
But, this Heat team will bring it.  They will win titles, but it will be hard to come up with seven.  No one since Bill Russell has won seven.  Only Michael Jordan and Scottie Pippen have six.  George Mikan, Kareem Abdul-Jabbar, Dennis Rodman, Kobe, and Magic Johnson have five rings.  Tim Duncan and Shaquille O'Neal have four (by the way, they should just team up already.  Neither has a great shot to win another title, so what have they got to lose?).
Even though they may have trouble winning more than 7 titles, the Heat has a very unique opportunity.  They now have 3 future Hall of Fame level players in place, 3 players in the top ten-twelve players in the NBA today.  Most importantly, and what separates this trio from others in NBA history, Wade (28), James (25), and Bosh (26) are all in the prime of their careers.  These players have between five and ten years left where they can play at an elite level.
James is right that they won't win 7, 6, 5, or 4 titles, but claiming that his team will win 8 titles sounds just silly coming from a player with no rings.  Before this team is done, though, they will win.  "3 titles for 3 kings" has a nice ring to it, 4 if the stars align.
Like Magic Johnson said, the Heat will not win one in 2011.  After the Lakers' get another three-peat, the Heat will win.  Until he wins, James needs to stop talking about how many titles he's going to win.  No more talk, just play the game.
R.S. De France is a College and University instructor of English Composition. He has a B.A. in English and an M.A. in Rhetoric, Composition, and Writing. One of his life-long pursuits has been writing and covering anything related to sports, specifically the NBA. Recently, De France, his wife, and another colleague started an internationally read magazine at Shwibly.com.