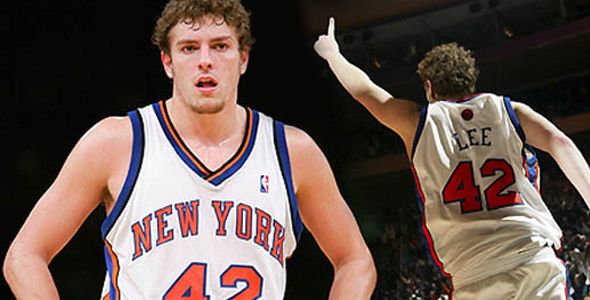 June 28, 2010 – J.P.
As the NBA world waits and wonders where superstars such as LeBron James, Chris Bosh and Dwayne Wade will land, the second and third tiers of players will be also looking for contracts from the teams who have cap space, including David Lee.
David Lee will get paid whether it is through a sign and trade or a straight out signing, and there are many teams that are willing to sign him immediately.  We will go over a few teams that have the right pieces in order to make something happen and who have a big interest in Mr. Lee.  Although Lee is loved by Knicks fans and enjoys living in New York, it would not be unfathomable for him to be in a new uniform next season.
New Jersey Nets – The Nets are the most likely suitors for David Lee since they are most likely not to get the services of James and Bosh.  The idea behind the Nets is that although they will make their best pitch for LeBron, they will pursue Lee just as aggressively hoping Lee will sign a contract with them before the Knicks get a chance to since they will be heavily pursuing James and Bosh.  The nice thing about this for Lee is he would not have to move from his current residence and he could continue to be a fan favorite and media darling in the New York market.
Utah Jazz – The Jazz are in an interesting situation because there is no way they can out right sign Lee, but they could do a sign and trade with Boozer while the Knicks sign and trade Lee to the Jazz.  Lee would most likely come off the bench and be the 6th man whether it is to play the 4 or 5, but he is definitely a player Jerry Sloan craves to coach even though Lee's defense is not where it should be at this juncture of his career.  This trade would keep the Jazz in playoff contention in the Western Conference while lessening the hurt of losing the services of Carlos Boozer.
Oklahoma City Thunder – The Thunder, like the Jazz, would most likely have to do a sign and trade with the Knicks to get Lee. Lee would be a perfect fit for the Thunder because he doesn't have to have plays run for him to be effective, so with Westbrook and Durant taking the majority of the shots, Lee will be able to continue to get offensive rebounds at a high rate and play well off the ball.  However, if this sign and trade were to go down, this would most likely be the end of Jeff Green in a Thunder uniform, which would not necessarily be a bad thing for the long term for the Thunder.
Houston Rockets – The Rockets are expected to be heavy players in free agency since they have so many assets that will be easy to move.  Lee would be a great fit for a Rocket team that has used the 6-6 Chuck Hayes at center for a majority of last season with Yao Ming being injured.  With Yao coming back next season and the Rockets just drafting Patrick Patterson, Lee could come in, start, and immediately make the Rockets a better team, which if they could stay healthy, could surprise the Western Conference next season.
New York Knicks – If the Knicks strike out with the big guns LeBron, Dwayne and Chris Bosh, and second tier players like Amare Stoudemire, Boozer and Joe Johnson, then Lee will be back in the mix.  The problem is that this could drag on for weeks, so the likelihood if Lee getting a better deal with another team is real, and with the Knicks being fully on board with getting the aforementioned players first, Lee will most likely be changing teams.  However, if Lee is patient and the Knicks do strike out with the top tier players, don't be surprised for Lee to stay on board and be part of the long term nucleus for the Knicks.
J.P. is the Co-founder of http://spoonhoops.com/ and a regular columnist and contributor to TheHoopDoctors.com.