May 10, 2010 – Robert Jerzy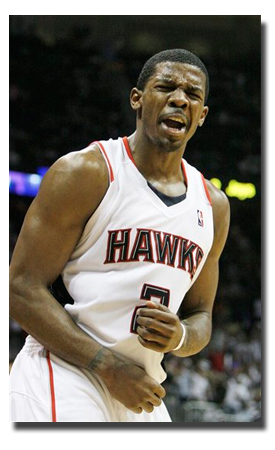 Being a fan of a basketball team that hasn't been in the playoffs for several years has one huge benefit – you can be quite objective and unemotional about the things that are going on during post season.
You can relax, watch some good matchups but also sit down and monitor the performance of the possible free agent targets in July, especially when your team has a ton of money to spend this summer.
One of my teams targets is Guard Joe Johnson of the Atlanta Hawks, a team that finished 3rd best in the East with a 52-29 record.
Under the regimen of Coach Mike Woodson, the Hawks improved year by year and were seen as a possible Eastern Conference final candidate by many experts.
But after a very solid start into the 2010 Playoffs, the team struggled against the injury depleted Milwaukee Bucks. In fact, the more talented Atlanta team needed 7 games to overcome the Bucks and advance to the Second Round.
The reasons for this unexpected tough road were complex – starting with the stagnant one-on-one offense and the inability of the Hawks leading core to accept and fulfill the Coach's orders on the court.
On several occasions, the so called go-to-guys refused to listen to Woodsons critics and undermined the authority of the Coach in front of the whole team.
Atlanta is 0-3 against their second round matchup, the Orlando Magic, losing their home game 105-75. The way how the Hawks lost all three games showed, that this team is on a free fall towards summer and an unknown future.
One of the biggest reasons for this downfall is the play of All-Star Joe Johnson. Since his arrival in ATL several years ago, the Hawks management saw Johnson as the main core to build a team around.
His steady improvement was the key to one of the most successful seasons in Hawks history.
Johnson will become a free agent this offseason and claims to be a max salary guy. Before the start of the playoffs, everyone shared his opinion – not only because of his talent, but also because of the situation in the offseason.
Joe Johnson could benefit from a possible LeBron James stay in Cleveland by being someone's (= the Knicks) Plan B.
Reason enough for me, to watch Johnson's game closely. He averaged 25 Points. 6 Assists and 5 Rebounds per game in the first four games. But after that stretch, he reached the 20 point mark only one time but even more, failed to score in double digit twice.
Johnson's series against Orlando reads as follows:
12 PPG, nearly 3 TO on .286 FG% and .182 3P%
Before I fall into Box Score Guy world, plain and simple … Joe Johnson's rating goes from Franchise-Joe to Joe Dirt.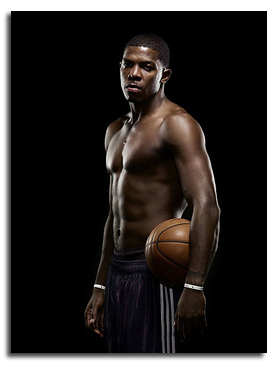 With his uncommonly bad performance, he will be re-evaluated by all teams, that had him penciled in as a possible member of next years team – including his own one, the Atlanta Hawks.
Daring a look into the near future, what could happen to Joe:
1. Staying in Atlanta, eventually not with a max contract. With his market value hurt, teams won't knock on Johnson's door with a case full of money. The Hawks could be the team offering him the most.
2. Go to a team as a second guy. This leaves New York as one of few destinations, New Jersey will have a hand full finding one player who wants to be a Net and Miami already has quite a good shooting guard.
3. Hoping for a Mike Dunleavy-like move – which means, answering the call of the team, that is so desperate in their plans on becoming a power house that they overspend Johnson (read: Clippers).
It is really weird how our modern world is ticking. Johnson was seen as one of the premier talents and go-to-guys in the whole league.
One bad playoff year and all his talent, every great game that he played becomes irrelevant.
In my perspective, Joe Johnson is still the same high caliber player with his perception and proven talent.
Pairing him up with another All Star would still be my Plan B, if Plan L(eBron) fails. Thank god I am not the decision maker – a job in which Joe Johnson himself failed the last two weeks as well.
Robert Jerzy is addicted to basketball and analyzes the game beyond the usual stats and figures. Robert is a regular columnist for the biggest german speaking magazine BASKET and his own site nykjournal.wordpress.com.