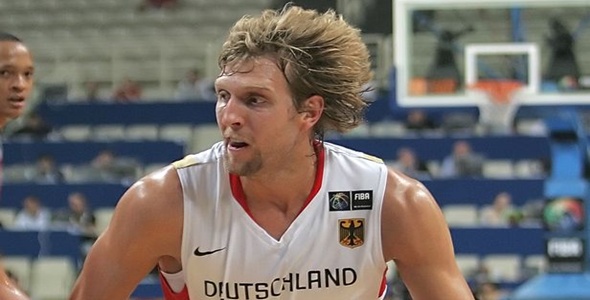 April 22, 2010 – Allen Moll
Do you long for some great throwback NBA and NCAA footage of superstars of the past featuring some of the game's best players?  Do you miss watching games in which the jump shot was an art form and not an afterthought?  Longing to see some of the hardwood's greatest grudge matches of teams wearing some of the league's ugliest uniforms?  If you are a fan of the game from back in the day, this is the series for you.  Welcome to Vintage Video.
Way back before NBA superstar Dirk Nowitzki was draining jumpers, winning MVP Awards, and leading his Dallas Mavericks squad deep into the playoffs, he was a gangly and uncoordinated 6'11 teenager living in Wurzburg, Germany. After failing in an attempt to follow in his father's footsteps of becoming a international handball star, he was convinced to take up the sport of basketball. At age 15, and after growing to 6'11 tall, he joined a local basketball club called the DJK Wurzburg, where he honed his skills as a jump-shooting big man. As you can tell by this video, he still was far from a finished product (Dirk is #14).
Then only a few short years later, at the age of 19, a young Dirk was chosen to participate in the Nike Hoop Summit, where he competed with a talented group of international stars against the best US high school players. This is where Dirk caught the eye of NBA scouts by scoring 33 points, grabbing 14 rebounds, along with 3 steals, and by out-playing future NBA talents like Al Harrington and Rashard Lewis.
And if you're still longing for some more vintage Dirk………Here is Mr. Nowitzki finishing off a near left handed poster dunk on a defender in the 2001 Eurobasket Championships.
Allen Moll is an avid NBA and College Basketball fan who watches and studies games religiously and coaches youth basketball in his native Lehigh Valley region of Pennsylvania.  Allen is a regular columnist for thehoopdoctors.com, Bleacherreport.com, UpperDeckblog.com, and his own site, Hoops Haven.