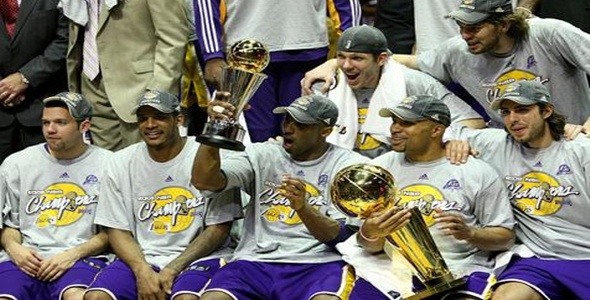 April 21, 2010 – Allen Moll
I'm sure every fan has heard of incentive laden contracts where players are rewarded for reaching certain statistical levels of excellency. Most player incentives are based on All Star appearances, winning MVP Awards, or for number of games played. But have you ever wondered what teams actually make for either making it to the playoffs, finishing with the best record, or winning the Bill Russell Trophy?
Periodically the amount of the "Playoff Pool" money changes based on overall league profits. According to the newest Collective Bargaining Agreement(Article IV, Section 5(g)), this year's total share is roughly $12 million dollars. Here is an official breakdown of how this year's pool gets divided:
Incentives For Regular Season:
Best Record in NBA: $346,105

Best Record in Conference: $302,841 each

Second Best Record in Conference: $243,411 each

Third Best Record in Conference: $181,706 each

Fourth Best Record in Conference: $142,800 each

Fifth Best record in Conference: $118,990 each

Sixth Best Record in Conference: $81,157 each
 
Incentives For the Playoffs:
Teams Participating in First Round: $179,092 each

Teams Participating in Conference Semifinals: $213,095 each

Teams Participating in Conference Finals: $352,137 each

Losing Team, NBA Finals: $1,408,168

Winning Team, NBA Finals: $2,125,137
Using the Cleveland Cavaliers as an example, if they would go on to win their first NBA Title, they stand to make an extra $3,215,566 dollars.
NBA's Best Record($346,105) + First Round($179,092) + Conference Semi-Finals($213,095) + Conference Finals($1,408,168) + Winning NBA Title($2,125,137).
Even if they win the whole thing, the money earned will only be a drop in the bucket in an effort to keep Lebron in Cleveland after this season, although it might cover the cost of some sweet NBA Championship rings.
Allen Moll is an avid NBA and College Basketball fan who watches and studies games religiously and coaches youth basketball in his native Lehigh Valley region of Pennsylvania.  Allen is a regular columnist for thehoopdoctors.com, Bleacherreport.com, UpperDeckblog.com, and his own site, Hoops Haven.