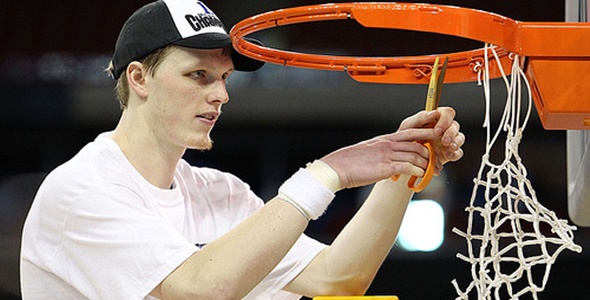 April 21, 2010 – Allen Moll
While seemingly everyone and their mother in college basketball are declaring themselves early for the 2010 NBA Draft, the leader of Duke's National Championship squad, Kyle Singler, has decided to return to the Blue Devils for his senior season. Fresh of winning the Most Outstanding Player of the '10 Final Four, Singler denied rumors that he would enter his name in the upcoming draft, even though his draft stock couldn't be higher after averaging 17 ppg and 7 rebounds and leading Duke to their 4th National Championship this season.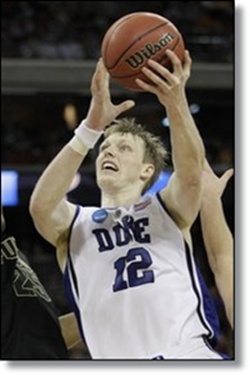 Singler has two obvious reasons for staying in school. First is the fact that he is only one more year away from earning his college diploma, which is not a bad idea, since he was only projected as a late 1st round selection in the NBA Draft. Having a degree is not a bad fall-back option in case a career in the NBA doesn't work out. Some experts don't see him going any higher because of his supposed lack of athleticism, in spite of his tremendous all-around offensive game. But remember, they said the same thing a bout Larry Bird, now some thirty years ago.
Secondly, Duke is absolutely loaded for next season. With big man Brian Zoubek, forward Lance Thomas, and point guard John Scheyer all gone due to graduation, Duke will have to rely on their underclassmen and a few key newcomers, if they have a legitimate shot at becoming the first repeat NCAA Champions since the Florida Gators four years ago.
Incoming freshman, Kyrie Irving, who is the top rated point guard coming out of high school, should slide right into Scheyer's spot, and could start as a freshman. Seth Curry, who is Stephen Curry's little brother, will provide scoring from the back-court, after sitting out last season after transferring from Liberty University. Zoubek's and Thomas' starting spots will undoubtedly be manned by 6'11, 2nd year player Mason Plumlee, who was one of the top rated big men coming out of HS last season, and his older brother Miles, who will be a junior, both of whom will provide a much more athletic skill set to the front-court. One could argue that the Blue Devils get even better without Zoubek, especially on the offensive end. Ryan Kelly, who is another highly skilled sophomore big man, should also help up front. Nolan Smith, who was third in scoring(17.4 ppg) for the Blue Devils in the regular season returns for his senior season and should be the starter at 2 guard.
In only his 3rd season, Singler became one of only 18 players in school history to score over 700 points in a season, as well as earning 1st Team All-ACC honors, including winning MVP of the ACC Tournament. He also proved to be one of the nation's most potent offensive players by posting 17 games of more than 20 points., while also posting 7 double-doubles in points and rebounds. Singler, along with teammates Scheyer , and Smith formed the nation's highest scoring trio by averaging more than 53 ppg.
Singler said in a statement released by the school that he was looking forward to one more year in college.
"I love being here at Duke and am excited about next year""I had two great options in front of me, but I did not want to miss out on all of the great things to come in a senior season."
Outside of Michigan State, no other NCAA team has retained as many underclassmen players as Duke. Could they be repeat champions?
Be sure to check out our most recent NBA Mock Draft 5.0, and our mock draft database, which gives you a listing of some of the top mock drafts across the web.
Allen Moll is an avid NBA and College Basketball fan who watches and studies games religiously and coaches youth basketball in his native Lehigh Valley region of Pennsylvania.  Allen is a regular columnist for thehoopdoctors.com, Bleacherreport.com, UpperDeckblog.com, and his own site, Hoops Haven.