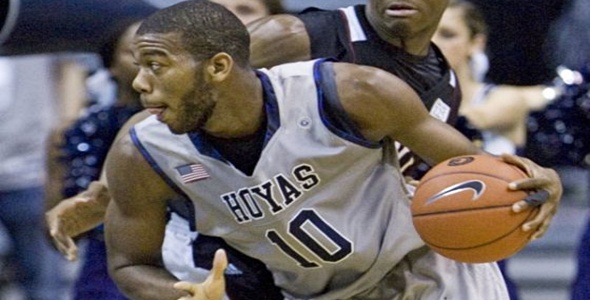 April 20, 2010 – Allen Moll
In a much anticipated decision by NBA teams, sophomore big man Greg Monroe officially ended his career at Georgetown University by entering his name in this year's NBA Draft and hiring an agent. Monroe has arguably been the most talented big man in the college ranks for the past two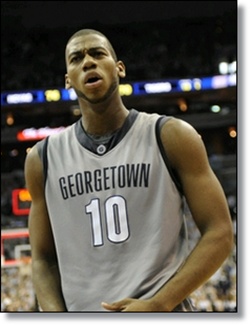 seasons because of his amazing ability to make passes out of the post in addition to being able to score, rebound, block shots, and run the floor like a guard. His tremendous all-around game, which features a number of low post spin moves with range out to the three point line, should make him a lock to be a Top 10 pick in the upcoming NBA Draft.
Many draft experts predicted he would have been a lottery pick last season after putting up great all-around numbers in his freshman season in Washington DC. But after a disappointing '08-'09 season which saw the Hoyas miss the NCAA Tournament with a mediocre 16-15 record, Monroe decided to return for the '09-'10 season. His choice was a good one for both himself and the Hoyas, as his team made it to the Big East Tournament Championship Game and the NCAA Tournament behind a 23-11 mark this season.
Monroe's individual numbers also improved to 16.1 ppg, 9.6 rebs, 3.8 ast, 1.2 stl, 1.5 blks, and shot more than 52% from the field, as he ranked among the Big East leaders in scoring, rebounding, steals, and blocked shots. His biggest asset to an NBA club is is penchant for finding the open man when double teamed in the post. In fact, he had 10 games with 5 or more assists, including a 12 dime effort in a win against Big East foe Providence. As more evidence of his abilities as a stat stuffer, Monroe has reached double figures in scoring in all but 2 games and had 10 or more rebounds in 15 of 34 games played this season.
Here's Monroe's official statement:
"It was mentally what I wanted to do." "I feel like I'm ready to make this step after working with our(Georgetown) coaches for two years."
Greg's Coach John Thompson III also agreed with his decision to go pro:
"Greg and I, along with his family, have examined the situation, and he has made an educated decision." "We have watched him grow as a player and as a young man while here at Georgetown. We support him and I look forward to watching and cheering him on for many years to come."
Monroe was a 1st Team All Big East Selection and a 3rd Team All American selection as a sophomore. He also was awarded the Pete Newell Big Man of the Year, given annually to the NCAA's best center, which is voted on by the National Association of Basketball Coaches.
His only weakness has been a question about his desire since he has been accused of coasting through some of his games in the 2 seasons with the Hoyas. Although he is blessed with as much talent as any player in the draft, he often has deferred to teammates and has failed to assert himself on a number of occasions. This perceived weakness has gotten better as he has matured at Georgetown but reservations remain. As a best case scenario, he projects as a Marcus Camby clone at the next level.
Greg Monroe is projected as the #7 selection in our latest 2010 NBA Mock Draft 5.0, right after Wake Forest's Al Farouq-Aminu and Syracuse's Wesley Johnson. In virtually every mock draft in our database, he is projected as a sure lottery pick.
Check out a great Greg Monroe Highlight mix:
Allen Moll is an avid NBA and College Basketball fan who watches and studies games religiously and coaches youth basketball in his native Lehigh Valley region of Pennsylvania.  Allen is a regular columnist for thehoopdoctors.com, Bleacherreport.com, UpperDeckblog.com, and his own site, Hoops Haven.