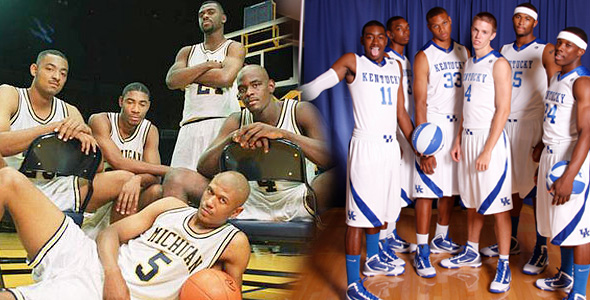 March 23, 2010 – Allen Moll
With a number of former players who starred in the NCAA Tournament like Michigan State's Mateen Cleaves, Kansas' Danny Manning, and Michigan's Jalen Rose doing promotional interviews recently, it brought back memories of Chris Webber drawing a technical foul for calling a time-out, which the Wolverines didn't have, in the '93 Championship Game, essentially giving the game to the UNC Tarheels. Even though Webber's All American status and his Michigan squad's back-to-back Final Four appearances were vacated, amid a recruiting scandal, they were arguably an old school version of today's Kentucky team led by a group of 4 talented freshmen, led by John Wall.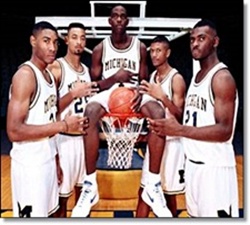 In looking at some similarities and differences, in the '93 tourney, Michigan(27-4) and this year's Kentucky Wildcats(32-2) were both #1 seeds. Both had a group of ball-hawking and high scoring guards led by Jalen Rose and Jimmy King for Michigan and John Wall and Eric Bledsoe for Kentucky. They both also had dominating and impossible to guard big men in Chris Webber and DeMarcus Cousins. Juwan Howard and Eric Riley had a bit more success than Daniel Orton this year, but that may only be because of playing time. Orton probably could start for virtually any other squad in the nation.
Another similarity is each team's influence on pop culture. Even though the John Wall Dance has swept the nation and everyone has adopted calling DeMarcus Cousins "Boogie," the Michigan Fab 5 are credited with starting the trend of wearing baggy shorts, all black socks and shoes, and shaving their heads for team unity. I don't see John Wall or Cousins shaving their heads anytime soon.
Both teams were led by controversial coaches.  The Wolverines were led by Steve Fisher, who was back in the tourney with San Diego State this year, and Kentucky by John Calipari. Fisher initially survived the Ed Martin scandal, even though Chris Webber could not, but was canned a few years later in 1997 upon further recruiting violations. Calipari has never personally been implicated, but also has had 2 Final Four appearances vacated while at Massachusetts and Memphis earlier in his career.
One of their differences is that this year's Wildcats do have some upperclassmen help in the form of junior Patrick Patterson and sophomores Darnell Dodson or Darius Miller in the starting line-up, where Michigan started all five freshmen. Outside of the Fab 5's first round blowout of Coastal Carolina in '93, Michigan struggled for the most part by winning their next 3 games by a combined 15 points.  Kentucky has already blown out Wake Forest by 30 to reach this year's  Sweet 16.  How will the remainder of Kentucky's season play out?  Will this season's Kentucky Wildcats follow the same path as the infamous '93 Michigan squad?
Recently Jalen Rose and Jimmy King visited the set of ESPN's First Take to argue this very issue and who would win in a grudge match with the always combative Skip Bayless. Surprisingly, King claimed that he would be able to "lock down" Player of the Year candidate, John Wall.  Good luck with that, Jimmy!
Check out the video:
Allen Moll is an avid NBA and College Basketball fan who watches and studies games religiously and coaches youth basketball in his native Lehigh Valley region of Pennsylvania.  Allen is a regular columnist for thehoopdoctors.com, Bleacherreport.com, UpperDeckblog.com, and his own site, Hoops Haven.