March 5, 2010 – Matt Anaya
What a year to be a sixth man in the NBA!
The evolution of the bench player being cool has reached its peak this season, as many starters are now regular bench players, but ironically loving every minute of it.
If you were to tell me five years ago that Jamal Crawford and Lamar Odom would be relishing their roles off the bench I would have told you to stop talking hoop, because you sound like an idiot.
Before this season Jamal Crawford was the Milton Bradley of basketball, but was traded to a contender in need of a scorer off the bench and surprisingly JC slid in perfectly. It is amazing how players play when they feel wanted.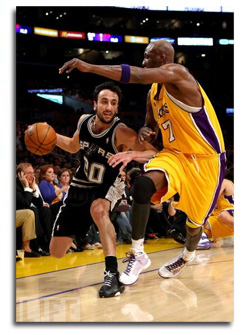 Lamar Odom has never been shy to show his petulance, I mean the guy pounds candy at halftime, and is a part of one of the most successful reality shows of all time, but there is no doubt how important his role off the Lakers bench is this season.
There are a bevy of players having monster seasons off the bench and let's take a look at the top sixth men of the NBA.
Carl Landry: is now starting for the Kings, but the rules to the Sixth Man of the Year award state, "To be eligible for the award, a player must come off the bench in more games than he starts," and Landry came off the bench for 51 games already this season. Landry is having a great season averaging 16 PPG and five RPG, and his number should increase as he sees more minutes and starts for the Kings.
Jamal Crawford: (17.3 PPG) is narrowly edging Jason Terry (17 PPG) for most PPG as a sixth man, and has made ATL a legitimate threat in the East. Although ATL does not have a chance to defeat CLE or ORL, JC is having a great season for the Hawks and has become their go to guy in the clutch, even though he is their sixth man.
Lamar Odom's career has taken off as a member of the Lakers even though he is their sixth man. Odom provides a spark off the bench, as do all of the top sixth men, but few do it like LO. Odom leads all bench players with 9.8 RPG, which puts him 11th in the NBA, and the next bench player on the list is Udonis Haslem at 7.3 RPG. Odom is a champion, a reality TV star, and might be the next Sixth Man of the Year.
Jason Terry recently broke a bone in his face after taking an elbow, but even that might not be able to slow him down. JET is 2nd in bench players at 17 PPG, while also dishing out four APG, grabbing one SPG, and shooting lights out from three point range (36%). Terry has always been one of the best sixth men in the NBA, as he has won the award once already in '08-'09.
Manu Ginobili has won the Sixth Man of the Year once before ('07-'08) and is clearly one of the better players in the NBA. Ginobili started the "coming off the bench is cool" trend a few years ago and is still going strong at 14 PPG, four RPG, five APG, and over one SPG. Manu will likely be one of the top candidates at the end of the season to win the award again, as he continues to play at a high pace off the bench.
Kevin Love For some ridiculous reason the Minnesota Timberwolves and Head Coach Kurt Rambis do not start Kevin Love regularly. Love is averaging 15 PPG, 11 RPG, two APG, and has not consistently started since January 15 (WTF?!). He was injured earlier this season, but has only started 20 games and been the sixth man for 22. It is unclear whether Love will start or not-start the rest of the season, but it makes no sense if he is a candidate for this award. Can someone tell me what the hell is going on in Minny?
Honorable Mention:
J.R. Smith – J.R. Swish is averaging 15 PPG, three RPG, and two APG this season for one of the best teams in the NBA.
Marcus Thornton – Who? The Hornets 2nd round pick is averaging 21 PPG in the second half.
My pick for 6th Man of the Year Award: Manu Ginobili. For some reason he only has won the award once and after this season it will probably be his second. 2nd – Lamar Odom, 3rd – Jason Terry, 4th – Jamal Crawford