March 11, 2010 – Allen Moll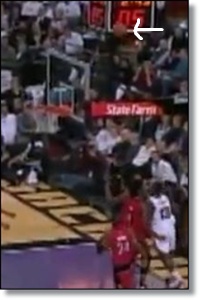 The Sacramento Kings flashy rookie, Tyreke Evans, is having a rookie campaign for the ages. He all but has the NBA's Rookie of the Year Award (ROY) on lock and is trying to become only the 3rd rookie ever to average 20 points, 5 rebounds, and 5 assists for a season along with Oscar Robertson and Lebron James.
He did little to hurt his chances at achieving the historic accomplishment by notching his first career triple-double by putting up 19 points, 10 rebounds, and 10 assists in a Kings 113-90 victory over the Toronto Raptors. He's compiling quite a resume in his rookie season which includes a number of 30 point scoring games and buzzer beating lay-ups, as he is surely atop everyone's Rookie of the Year Rankings.
On a night where the Sacramento home crowd was promoting Evans chances of winning the NBA's top award for rookies, Evans pulled off one of the most spectacular plays of the year, even if it didn't count. After driving towards the right baseline in the 2nd quarter, and being forced out of bounds by the Raptors' Chris Bosh and Sonny Weems, Evans took a one-handed shot that went completely over the backboard and hit nothing but net. The amazing shot would have rivaled even Monta Ellis' trick shot abilities, except that the refs called a foul on the floor, before the shot. After the unbelievable shot, the crowd at Arco Arena rightfully so, chanted ROY!, ROY!
Check out Tyreke Evans' unreal shot:
Allen Moll is an avid NBA and College Basketball fan who watches and studies games religiously and coaches youth basketball in his native Lehigh Valley region of Pennsylvania.  Allen is a regular columnist for thehoopdoctors.com, Bleacherreport.com, UpperDeckblog.com, and his own site, Hoops Haven.