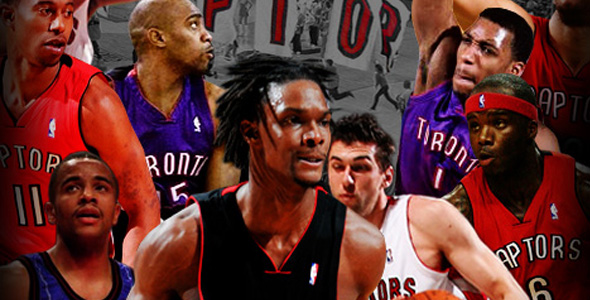 March 23, 2010 – R.S. De France
In honor of 15 years of Toronto Raptors basketball, let's take a look at two lists:  the players with the best careers as Raptors and the best players to ever wear a Raptors' uniform.
Best Career with the Raptors
C Chris Bosh
7 seasons (has played his whole career for the Raptors)
20.1 ppg and 9.4 rpg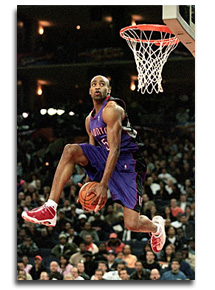 PF Antonio Davis
SF Vince Carter "Half Man, Half Amazing,"
6 seasons
23.4 ppg
5.2 rpg
R.O.Y. Award
Won 2000 Dunk Contest
Played with cousin Tracy McGrady for two seasons
SG Morris Peterson
PG Damon Stoudamire "Mighty Mouse"
3 seasons
R.O.Y. Award
19.6 ppg
8.8 apg
*Statistics above are only from player's careers with the Toronto Raptors
Best Players in a Raptor's Uniform
C Hakeem Olajuwon
PF Chris Bosh
SF Vince Carter
SG Tracy McGrady
PG Mark Jackson
*Olajuwon finished his career playing one season for the Raptors.  Jackson played only 54 games for the team in the 2000-2001 season.
All-International Team
C Rasho Nesterovic (Slovenia)
PF Andrea Bargnani (Italy)
SF Hedo Turkogu (Turkey)
SG Marco Belinelli (Italy)
PG Jose Calderon (Spain)
*all current Toronto Raptors
Honorable Mentions
Alvin Williams (8 seasons, but only 9.8 ppg), Jalen Rose —(16.2 but only 3 seasons), T.J. Ford (13.2 ppg and 7.2 apg, but only 2 seasons), Marcus Camby, Charles Oakley, Rafer Alston, Kevin Willis, Alvin Robertson, Doug Christie, Dell Curry, Anthony Parker, Jerome Williams, Donyell Marshall, Muggsy Bogues, Walt "The Wizard" Williams, Carlos Arroyo (Puerto Rico), Carlos Delfino, Hubert Davis, Juan Dixon, Jorge Garbajosa (Spain), Jarrett Jack, Jason Kapono, Jamario Moon, Tracy Murray, Jermaine O'Neal, Oliver Miller, Chauncey Billups, John Salley, Charlie Villanueava, Rod Strickland, Herb Williams, Corliss Williamson, Haywood Workman
Notes
Neither Antawn Jamison nor Alonzo Mourning actually played for the team even though the Raptors drafted Jamison, who was traded for Vince Carter and subsequently he traded for Mourning, who never showed up.
R.S. De France is a College and University instructor of English Composition. He has a B.A. in English and an M.A. in Rhetoric, Composition, and Writing. One of his life-long pursuits has been writing and covering anything related to sports, specifically the NBA. Recently, De France, his wife, and another colleague started an internationally read magazine at Shwibly.com.