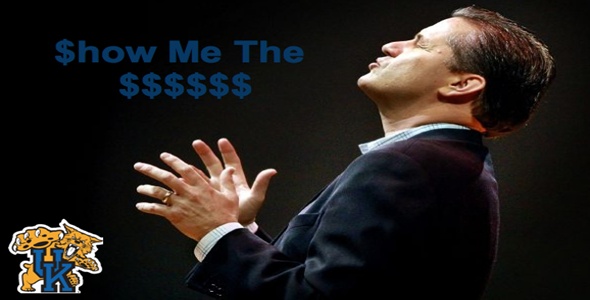 March 11, 2010 – Allen Moll
The higher ups at the University of Kentucky knew exactly what they were getting when they pried away 2 time National Coach of the Year, John Calipari away from Memphis. They got a rock star of a coach who knows how to win at an alarming rate, is arguably the country's best recruiter, and absolutely loves all of the limelight and attention that comes with being the man at the helm of the ship known as "Big Blue Nation." Since he has taken the Wildcats all the way to a #1 ranking for the first time since '03, sponsors and product managers across the country are loving Coach Cal right back since I've come across two new products that have Calipari's name and fame written all over them.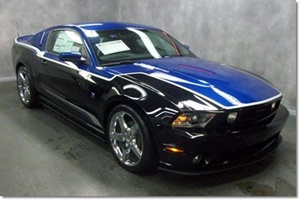 First off, Paul Miller Ford in Lexington, Kentucky is now offering a 2010 Coach Cal Edition Roush 427R Ford Mustang. The exclusively designed car boasts up to 435 horsepower, blue and black suede seats, 3 piece rear spoiler, and comes with a custom paint job in jet black and silver, with a UK themed blue striping. Calipari has been driving the limited edition Mustang for a while now as part of a promotion.
No word on how long the dealership has given the Mustang on loan to Cal but revealed that his 12 year old son, Brad, hopes he keeps it until he gets his license in 4 years. The Coach Cal Mustang comes on the heels of the success of the '09 Rich Brooks Edition F-150 Crew Cab, named after the Kentucky head football coach. For more photos and details, you can check them out here.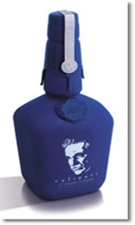 Also, Marker's Mark Bourbon will offer a limited edition John Calipari bourbon in Kentucky blue with Coach Cal's mug on the front. The world famous bourbon will produce 24.000 bottles bearing the legendary coach's face on a blue dipped bottle and will donate an estimated $300,000 dollars to the UK Symphony Orchestra and UK School of Music from proceeds of sales of the special edition collection.
Since 1997, Marker's Mark has issued a special edition bottle, and with Calipari's and UK's success this season, they chose the first year Kentucky coach to be the face on the bottle this year. There will even be a bottle signing at Keenland Racetrack in Lexington, Kentucky on April 9th. Retail price is $49 per bottle and will hit shelves on April 2nd.
I'm sure fans of Kentucky basketball will run right out and and buy a bourbon bottle and even a few will scoop up a new Mustang since Big Blue has the most passionate fan-base in the country. But surely Wildcat fans would rather Coach Cal, John Wall, and Co. bring home a National Championship to Lexington rather than these Calipari endorsed products.
Allen Moll is an avid NBA and College Basketball fan who watches and studies games religiously and coaches youth basketball in his native Lehigh Valley region of Pennsylvania.  Allen is a regular columnist for thehoopdoctors.com, Bleacherreport.com, UpperDeckblog.com, and his own site, Hoops Haven.