March 9, 2010 – Allen Moll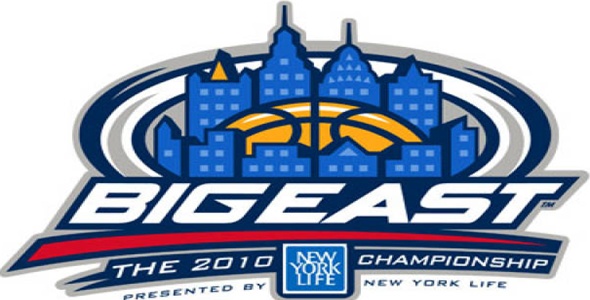 While most of the smaller low and mid-major conference tournaments are already finished or nearing their conclusion, the big boys of the high major conferences begin their post-season tourneys this week. Even though most college basketball fans can't wait for the official March Madness to begin next week, most hard core fans actually enjoy all of the drama and high seed match-ups that conference tournaments provide.
Last season's Big East Tournament gave us quite possibly the most entertaining game in NCAA history when the Syracuse Orange out-lasted the Connecticut Huskies in a six overtime thriller, eventually won by the Cuse. Many feel that that game exhausted both teams to the point that they were running on fumes in the NCAA Tournament, as neither made it to the Final Four. Could we be headed towards another barn-burner again this season? With so many teams below the Top 4 seeded teams(Syracuse, West Virginia, Pitt, and Villanova) still sitting on the NCAA bubble, we could once again be in for quite a contest played out at Madison Square Garden.Here are 5 Things to Watch for in the Big East Tournament:
1) Notable Injuries and Absences

The big story of this year's tourney has to be injuries to some of the conference's biggest stars. Notre Dame has won 4 of 6 games without their top scorer and rebounder, Luke Harangody. Although his squad has surged in his absence, the Irish will undoubtedly need Gody's 25 points and 10 boards a night to beat the top teams in the conference and to further solidify their chances of an at-large bid. Syracuse's Wes Johnson has been bothered by wrist and hand issues for the Cuse's last 10 games, where he has averaged only 12 ppg. Surely coach Boeheim would like some easy victories to rest his POY candidate. Villanova coach Jay Wright and junior Taylor King have been at odds recently over an undisclosed personal matter. Word out of Wildcats camp is that King will be in street clothes for possibly the entire Big East Tourney because of a benching over a difference of opinion between coach and player. Not good timing for both parties since King is their best 3 point shooter off the bench and Nova could use a good showing to improve their standing among the nation's elite programs. Georgetown's Austin Freeman has only one game under his belt after being diagnosed with diabetes.
2) Possibility of 8 Bubble Teams for NCAA Tournament

While it will not happen, by the numbers, upwards of 12 Big East teams still have the possibility of making the NCAA Tournament field, which further gives evidence of how week the bubble is this year. Virtually 7 teams including the Top 4 seeds mentioned above as well as Georgetown, Louisville, and Marquette are locks for March Madness. But Notre Dame, Seton Hall, and UConn are only in need of a first round win with South Florida and Cincinnati clinging to life despite being sub .500 in conference. Both would need to run the table or at least make it to the championship game to have a chance. The equalizer is that most teams will essentially burst each other's bubbles as they advance through the bracket. Best case scenario, we see 9 teams come Selection Sunday.
3) Can Villanova Still Make a Run At An NCAA Tourney #1 Seed?

After Nova started the season at 20-1, the Wildcats stumbled to the regular season finish line with a subpar 4-5 record. Was it the tough Big East schedule or are there deeper issues? We will surely find out. During their final 10 games they were out-rebounded by a wide margin and drastically out-scored in bench points, which was a supposed strong point this season. In my opinion, with such a young roster, the Cats should ride their upperclassmen(Reynolds, Fisher, and Pena) as far as they will take them(It worked last year). It's another situation of their 5 freshmen hitting the proverbial wall. They will need production from Malik Wayns, who was the conference's rookie of the week multiple times, Dominic Cheek, and Mouph Yarou, who has scored in double figures in points in 2 of his last 3 games. Winning the Big East Tourney would give Nova a shot at dislodging Duke as the fourth #1 seed in the NCAA's
4) With Austin Freeman Healthy, Is Georgetown a Big East Power?

Just 6 days after being diagnosed with diabetes, Hoya leading scorer, Austin Freeman returned to score 24 points in a victory over Cincinnati to give Georgetown a first round bye in the Big East Tournament. Securing a 1st round bye gives them every bit as much of a chance as Syracuse, Nova, and WV to win it all. But which Hoya team will show up, the first half version which was a Top 15 team or the 2nd half one which stumbled down the stretch?  If Greg Monroe stays aggressive, Freeman puts up 20 per night, and Chris Wright takes care of the basketball, the Hoyas are as potent as anyone offensively with the back door cuts of the Princeton offense.
5) Cincinnati Freshman Lance Stephenson's MSG Homecoming

As it turns out Lance Stephenson isn't as "Born Ready" as he all had us believe coming out of high school. The once thought of one-and-done prospect could use another year of seasoning in the college ranks before landing on an NBA roster. He has shown flashes at times by scoring in double figures in 17 games while finishing the year as the Bearcats leading scorer at 12 ppg. It has to feel like a homecoming playing at Madison Square Garden, where the Brooklyn native has played a number of city championships for Lincoln HS and in a number of prep showcases. If he gets hot and scores in bunches, the Bearcats could win a few rounds and have Lance thinking of going pro next year.
Allen Moll is an avid NBA and College Basketball fan who watches and studies games religiously and coaches youth basketball in his native Lehigh Valley region of Pennsylvania.  Allen is a regular columnist for thehoopdoctors.com, Bleacherreport.com, UpperDeckblog.com, and his own site, Hoops Haven.