March 4, 2010 – R.S. De France
Okay, we can stop giving Michael Vick a hard time.  Sure, I'm still against dog fighting, not only because I'm a dog owner, but also because it's unethical.  Now, we can focus on a new, even more horrifying issue that now has a direct connection to sports. It has been reported and recently confirmed that former All-Star point guard for the Milwaukee Bucks, Detroit Pistons, and two other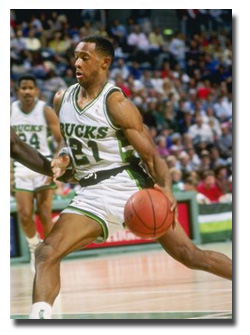 teams, Alvin Robertson has now been arrested in regards to accusations of leading a sex-slave scandal.  He may have been the leader of a ring of men who were involved in sex trafficking a 14-year old girl.
Between former NBA players like Jayson Williams, who was recently sentenced to 5 years for murdering his limo driver, Dennis Rodman, who has been in rehab for alcohol addiction and on "Celebrity Rehab with Dr. Drew," and now Robertson; this confirms my long-held belief that it would not be out of the realm of possibility that, before drafting a young rookie, teams should be able to conduct a more thorough psychological examination.
This tragedy shows that even a good player in the NBA can fall into criminal activity.  Alvin Robertson, 6'4 guard out of Arkansas, played 10 seasons in the NBA, averaging about 14 ppg.  Robertson was a four time All-Star, a winner of the Defensive Player of the Year Award, as well as the Most Improved Player Award.  A multi-dimensional player, Robertson is one of only four NBA players to record a quadruple-double (double digits in four statistical categories in a single game) when he registered 20 points, 11 rebounds, 10 assists and 10 steals whilst playing for the Spurs.
Perhaps, what best highlights his tremendous talent is how he performed on the Olympic Gold Medal 1984 team.  Bob Knight coached this loaded team to an undefeated record. Playing along side legends and future Hall of Fame players like Michael Jordan, Patrick Ewing, and Chris Mullin (and even Sam Perkins), Robertson led the team in field goal percentage and steals.  In addition, Robertson was the 7th leading scorer on the team (7.8 ppg).
The only positive, if you want to call it that, is that this tragic event keeps this issue in the public eye.  Currently, there are sex-slaves in almost every country in the world.  This is a horrific reality for many children, and hopefully education can assist in prevention.  Learn more at: http://humantrafficking.change.org/.
Robertson turned himself in last Friday.  If he is guilty, he needs therapy, counseling and probably prison time to deal with and reflect on his problems and transgressions.  Further, this shows how this terrifying cycle of abuse is present in different levels of society.
R.S. De France is a College and University instructor of English Composition. He has a B.A. in English and an M.A. in Rhetoric, Composition, and Writing. One of his life-long pursuits has been writing and covering anything related to sports, specifically the NBA. Recently, De France, his wife, and another colleague started an internationally read magazine at Shwibly.com.